At The Open With Marcia Frost...
Sunday, September 12th
Junior Championships, Final Day

There may not have been anyone who won the Junior Grand Slam this year, but there was a girl who swept the titles and a boy who made history. Tennis has two new future stars -- Michaella Krajicek and Andrew Murray.
Unlike last year when she went home with just a finalist plate, this year Michaella Krajicek wegot to leave with two trophies. Yesterday it was a doubles championship with Marina Erakovic and today it was the gold -- the Girls Singles title -- and Michaella earned it. In the first game alone, Michaella shot out two aces and there were many more to come. Opponent Jessica Kirkland was extremely nervous and the 15 year old Netherlands native took full advantage. It was all over at 6-1,6-1.
Despite a few good points (mainly brought on by her killer two-handed backhand), Jessica just couldn't get it going. The crowds, the television cameras (The Tennis Channel televised the junior championships this year), and the pressure of carrying the flag for her country were just too much for Jessica while Michaella was at the very top of her game. Her serve was right on, her forehand was deadly and the injuries that plagued her all week were under control.
After the match a jubilant Michaella Krajicek was all smiles at her press conference. When asked about the difference between this year's match and last year's, she replied, "I think I was more comfortable, a lot more comfortable in the final, because I was going with the feeling that I already did this last year so I don't have to be nervous."
Even though she didn't bring the title back home (it's been nine years since an American won the girls singles), Jessica was very satisfied with her performance in this tournament. "I'm not really disappointed. I'm just happy I made it to the final," she said. When asked about her nervousness on the court, she did not deny it, "Yeah, it's a junior Grand Slam so I've never really been in that situation before. I really wanted to do well, but I think I went out a little bit too nervous."
As is so often the case, there were less nerves and more power struggles in the boys match. For most of the week Andrew has been taking awhile to warm up in his matches often costing himself the first set. This was not the case today. Andrew was on from the beginning and, even though Sergiy Stakhovsky put up quite a fight, he couldn't get past the 17 year old Brit. Sergiy, an 18 year old Ukrainian who had never been past the quarterfinals in a Grand Slam event, could not catch a break today. The crowd grew as it got closer to the end and Andrew just let one match point go by before it was 6-4,6-2 in his favor.
Andrew Murray, who is from Scotland, admitted after the match that he hadn't even realized he was the first British player to win the event. "I hadn't really thought about it like that. I just couldn't believe I had won. To win a junior Grand Slam (event) after being out of tennis for seven, eight months is a big thing for me." When asked who the greatest player in the history of Scotland is, Andrew laughed and said, "Me?"
It's been twenty days of juniors coming and going through the USTA National Tennis Center as my time at the US Open comes to an end. As usual, it is a bittersweet good-bye until 2005 when the next generation will come through these courts and set their mark as Michaella, Andrew, Jessica and Sergiy have.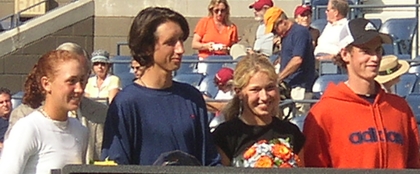 Boys Singles Draw Boys Doubles Draw
Girls Singles Draw Girls Doubles Draw
Until Next Year,
Marcia Frost