At The Open
With Marcia Frost...
Sunday, September 11th
Junior Championships, Final Day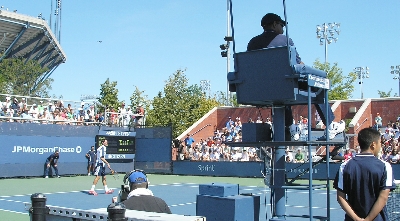 Yesterday may have been full of close, exciting matches, but the only thing surprising about today was the players that stood holding the trophies. The biggest surprise of all was an unseeded Bahamian holding the U.S. Open Junior Championships boys singles trophy.

Many have marveled at Ryan Sweeting throughout this tournament. He took out player after player, topping the list by upsetting the sixth-seeded Sun-Young Kim in yesterday's semi. Ryan, who currently lives in Florida, had only played Wimbledon champion Jeremy Chardy once before. It was the first round of the French Open and Jeremy won, 6-2,6-1. I don't think anyone expected him to wipe out Ryan today, but we did all expect the Frenchman to give put up a tough fight.

It was a servers duel on Court 10 -- the same court that Andrew Murray won this championship on last year. The points were short. The serves were harder and faster than most men's matches. At 2-1 Ryan picked up a break and held it through to a quick 6-4 set.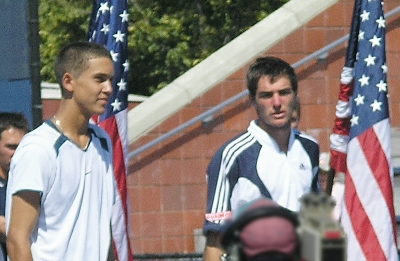 The second set of the boys final wasn't much different from the first. There were a few good points, but few being the key word -- most were won on serve. In the case of the eighth game it was lost on serve as Jeremy Chardy double-faulted to give Ryan the only break of the set. It seemed like no time later when on the third match point Ryan Sweeting was the boys singles winner.

In the press conference after the match, Ryan Sweeting was unsure that he would continue with his plans to attend the University of Florida. "It definitely puts a question mark on it. It doesn't necessarily change everything, but we're definitely going to have to sit down and talk about it and see what the plans are for the future. Because I don't think too many champions of the U.S. Open go on to college in a couple of months."

It was not the best of days for now 16 year old Californian Alexa Glatch. The pressure was on and Victoria Azarenka, the number one seed, took the first set quickly at 6-3. Alexa did not look worried despite having service problems. She increased the level of her game and broke to 2-1, followed by a service game of three aces. Victoria became angry and used that to motivate the number one seed into near perfect tennis as Alexa made a number of errors. It was 6-3,6-4 before anyone could blink.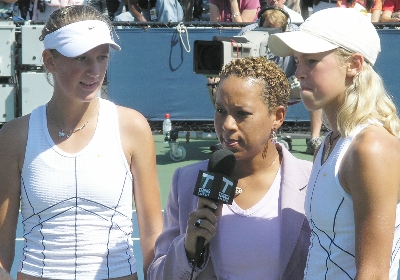 Victoria (above left with Alexa Glatch and Tennis Channel commentator Katrina Adams in the middle) was excited to win her second Grand Slam event. "In Melbourne it was the first time and... I didn't know what I was feeling. But this time... I'm really, really happy because I wanted so much to win this Grand Slam because last year I had opportunity to win it also. I had matchpoints in semifinals and I missed it."

Last year the weather ruled the Open through rain delays and cancelled matches, this year the sky played to perfection. It was a sunny three weeks at the National Tennis Center full of the world's most exciting tennis with some surprising finishes. Who knows what next year will bring?

Until Next Year,
Marcia Frost
Boys' 18
SINGLES
Finals
Ryan Sweeting defeated Jeremy Chardy (7), 6-4,6-4
Semifinals
Ryan Sweeting defeated Sun-Young Kim (6), 6-4,6-0
Jeremy Chardy (7) defeated Santiago Giraldo (4), 7-6(5),6-2
Quarterfinals
Sun-Young Kim/Korea (6) defeated Donald Young/USA (1), 7-6(1),2-6,7-6(2)
Ryan Sweeting/Bahamas defeated Leonardo Mayer/Argentina (3), 6-4,7-5
Santiago Giraldo/Columbia (4) defeated Tim Smyczek/USA, 6-1,3-6,6-2
Jeremy Chardy/France (7) defeated Marin Cilic/Croatia (2), 4-6,6-4,6-2
DOUBLES
Finals
Alex Clayton/Donald Young (8) defeated Carsten Ball/Thiemo de Bakker (2), 7-6(3),4-6,7-5
Semifinals
Alex Clayton/Donald Young (8) defeated Petar Jelenic/Evgeniy Kirillov (3), 6-2,6-3
Carsten Ball/Thiemmo de Bakker (2) defeated Jesse Levine/Michael Shabaz, 6-1,6-3
Quarterfinals
Alex Clayton/Donald Young (8) defeated Kellen Damico/Tim Smyczek, 6-1,7-6(5)
Petar Jelenic/Evgeniy Kirillov (3) defeated Timothy Neilly/Ryan Sweeting (5), 6-4,1-6,7-6(2)
Jesse Levine/Michael Shabaz defeated Pavol Cevernak/Lukas Lacko, 6-2,7-6(2)
Carsten Ball/Thiemmo de Bakker (2) defeated Ivan Sergeyev/Nikola Mektic, 2-6,7-6(3),7-6(5)
Girls' 18
SINGLES
Finals
Victoria Azarenka (1) defeated Alexa Glatch (7), 6-3,6-4
Semifinals
Victoria Azarenka (1) defeated Mihaela Buzarnescu (14), 6-1,7-6(3)
Alexa Glatch (7) defeated Nina Henkel, 7-5,7-5
Quarterfinals
Victoria Azarenka/Belarus (1) defeated Marina Erakovic/New Zealand (6), 5-2 retired/injured
Mihaela Buzarenescu/Romania (14) defeated Olga Govortsova/Belarus, 6-1,7-6(3)
Alexa Glatch/USA (7) defeated Dominka Cibulkova/Slovakia (3), 6-0,6-4
Nina Henkel/Germany defeated Elizabeth Plotkin/USA, 7-5,7-5
DOUBLES
Finals
Nikola Frankova/Alisa Kleybanova (7) defeated Alexa Glatch/Vania King (2), 7-5,7-6(3)
Semifinals
Nikola Frankova/Alisa Kleybanova (7) defeated Olga Govortsova/Bibiane Schoofs, 7-6(6),6-3
Alexa Glatch/Vania King (2) defeated Wen-Hsin Hsu/Amina Rakhim (5), 6-3,6-2
Quarterfinals
Olga Govortsova/Bibiane Schoofs over Victoria Azarenka/Marina Erakovic (1), walkover
Nikola Frankova/Alisa Kleybanova (7) defeated Mihaela Buzarnescu/Alexandra Dulgheru (3), 6-3,7-5
Wen-Hsin Hsu/Amina Rakhim (5) defeated Anna Tatishvili/Caroline Wozniacki (4), 5-7,6-0,7-5
Alexa Glatch/Vania King (2) defeated Ayumi Morita/Erika Sema, 6-4,6-3
Click on a photo to enlarge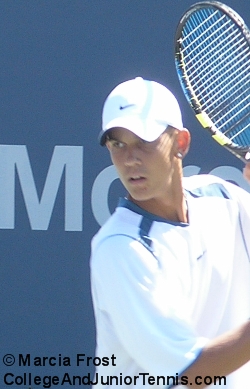 Ryan Sweeting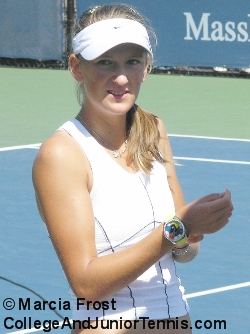 Victoria Azarenka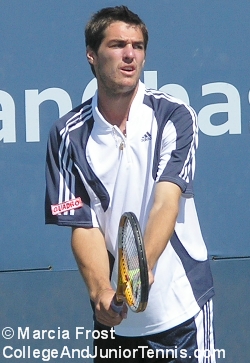 Jeremy Chardy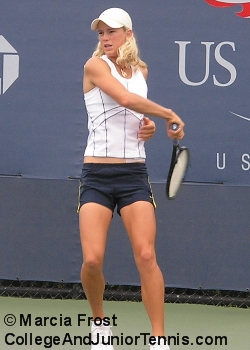 Alexa Glatch
---
If you get The Tennis Channel, be sure to watch me on the segments I filmed for Inside Tennis With The Koz, including the Girls 18 Nationals Special.
Marcia Frost
---