At The Open
With Marcia Frost...
Sunday, September 9th-Junior Championships, Final Day
Each match had an unseeded player who had never played in a Grand Slam event final. Each final had a kid from Poland. There were similarities, but the two matches and the outcomes couldn't have been anymore different.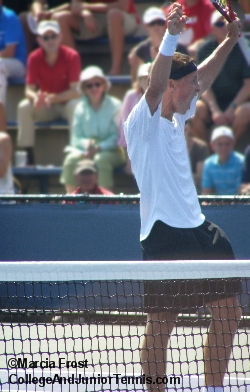 The road to the final for Lithuania's Ricardas Berkankis had been an easy one. The Australian semifinalist did not lose a set all tournament -- not even when he beat the No. 8 Roman Jebavy or No. 3 Matteo Trevisan. Today his opponent was not a top seed, but a true underdog. Jerzy Janowicz, a 16 year old from Poland, had never played a Grand Slam. His biggest final (he lost) came at the German Junior Open this year. Still he had earned his place in today's match playing four out of five three-setters, eliminating the 11th seeded Thomas Fabbiano in the semis. He and Ricardas had never even played against each other before today.
Both the girls and boys finals were on at the same time so, as I often must do around here, I had to choose one to start. I decided to go to the boys first. I thought it might be the quicker match (allowing me time for the other) and I was right. In fact, it was one of the quickest matches I've ever seen. It wasn't until game eleven that the score rose to 40-30. The points were quick and were almost all won on serve or return of serve. The first set was over in just 20 minutes in favor of the 15th seeded Lithuanian. In fact, Colette Lewis of Zoo Tennis was sitting next to me and pointed out that the changeovers were taking more time than the actual games.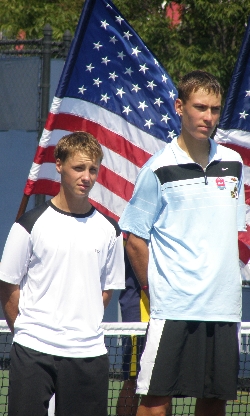 The second set had a bit more excitement, yet just one game (at 3-2 with Ricardas serving) had the ball go over the net more than four times in a point. That was also the only deuce game. It signaled a change as Jerzy lost his serve. It was the serve (which produced twice as many aces as his opponent) that had kept him in most of the game. Soon it was all over 6-3,6-4 in 51 minutes. Ricardas Berankis had won Lithuania's first Junior Open Boys' Singles Championship and Jerzy Jankowitz had his first Grand Slam experience.
I missed most of the first set between Kristina Kuckova and Urszula Radwanska while I was watching the boys. In an interview after the match, Kristina admitted that it had come quickly to her too, "I was very surprised because it was 0-3. Then 6-3... I won six games in a row." Like Jerzy, Kristina was unseeded and playing in her first major final, however, she was on the opposite side of the court of the No. 2 seed, who had already claimed one Grand Slam (Wimbledon) singles crown and three doubles (French, Wimbledon & U.S. Open yesterday). It was certainly a daunting task to try to face that.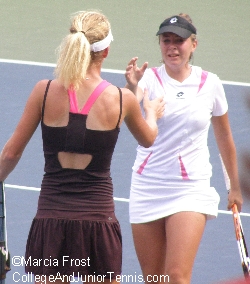 Just as I remarked to a number of people that Urszula Radwanska was looking rather tired, the 16 year old came back from a set down and won the next six out of seven games for a 6-1 set. As the crowd grew -- especially with her native Polish fans who had been watching the boys match -- the final set was with constant drama. The two traded breaks and even drop shots for some great points. Finally, at 5-5, there was the longest game of all as both players showed their frustration (though Urszula's screaming was a bit more clearer than her Slovakian opponent). Finally it was clear no one would break through and hold so into a tiebreaker we went.
If there was any doubt in the second there was none in the breaker that Urszula Radwanska was exhausted. It was quickly 4-1 for Kristina and, though she did save one match point, there was no singles-doubles sweep for her this year as the unseeded kid from Slovakia took the breaker 7/3 and the match that went with it.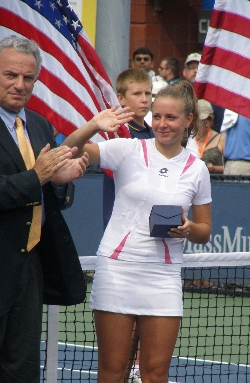 It's been a very long three weeks here at the USTA Billie Jean King National Tennis Center. The excitement of the U.S. Open is hard to explain to anyone who hasn't been here to experience it, though I do my best to do it justice. I've watched stars emerge -- I'm happy one of them was John Isner -- and champions fall, but most of all I've seen the greatest tennis in the world. Today, Kristina Kuckova was able to overcome the odds and win the Grand Slam, now I'm off to see if Novak Djokovic can do the same.
Until Next Year,
Marcia Frost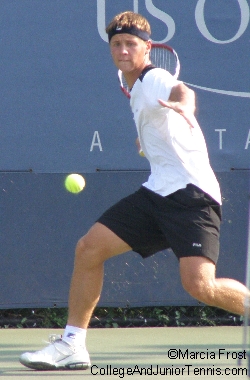 Boys' 18
SINGLES
Finals
Ricardas Berankis (15) -- pictured left -- defeated Jerzy Janowicz, 6-3,6-4
Semifinals
Jerzy Janowicz defeated Thomas Fabbiano (11), 6-2,7-6
Ricardas Berankis (15) defeated Matteo Trevisan (3), 7-6,6-4
Quarterfinals
Thomas Fabbiano/Italy (11) defeated Uladzimir Ignatik/Belarus, 6-4,6-2
Jerzy Janowicz/Poland defeated Greg Jones/Australia (5), 3-6,7-6,6-3
Matteo Trevisan/Italy (3) defeated Daniel Evans/Great Britain, 6-4,7-5
Ricardas Berankis/Lithuania (15) defeated Roman Jebavy/Czech Republic (8), 6-4,6-3
DOUBLES
Finals
Jonathan Eysseric/Jerome Inzerillo (6) defeated Grigor Dimitrov/Vasek Pospisil, 6-2,6-4s
Semifinals
Jonathan Eysseric/Jerome Inzerillo (6) defeated Uladzimir Ignatik/Roman Jebavy (1), 7-6(2),6-4
Grigor Dimitrov/Vasek Pospisil defeated Stephen Donald/Greg Jones (2), 4-0 retired/injured
Quarterfinals
Uladzimir Ignatik/Roman Jebavy (1) defeated Radu Albot/Evgeny Donskoy, 6-3,6-4
Jonathan Eysseric/Jerome Inzerillo (6) defeated Daniel-Alejandro Lopez/Matteo Trevisan (4), 6-3,6-0
Grigor Dimitrov/Vasek Pospisil defeated Thomas Fabbiano/Andrei Karatchenia (8), 7-5,4-6,6-1
Stephen Donald/Greg Jones (2) defeated Devin Britton/Jared Easton, 6-0,6-3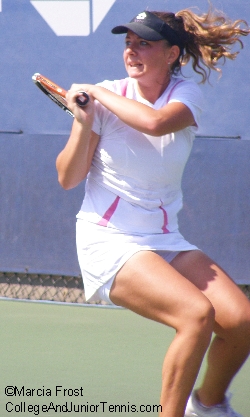 Girls' 18
SINGLES
Finals
Kristina Kuckova -- pictured left -- defeated Urszula Radawanska (2), 6-3,1-6,7-6(4)
Semifinals
Kristina Kuckova defeated Oksana Kalashnikova, 7-5,6-1
Urszula Radwanska (2) defeated Ksenia Milevskaya (7), 3-6,6-2,6-4
Quarterfinals
Kristina Kuckova/Slovakia defeated Anastasia Pavlyuchenkova/Russia (1), 6-3,6-3
Oksana Kalashnikova/Georgia defeated Sacha Jones/New Zealand, 1-6,6-2,6-3
Ksenia Milevskaya/Belarus (7) defeated Jessica Moore/Australia, 7-6(5),6-2
Urszula Radwanska/Poland (2)defeated Lauren Albanese/USA (8) 6-1,1-0 retired/ill
DOUBLES
Finals
Ksenia Milevskaya/Urszula Radwanska (2) defeated Oksana Kalashnikova/Ksenia Lykina (3), 3-6,6-2,6-4
Semifinals
Oksana Kalashnikova/Ksenia Lykina (3) defeated Misaki Doi/Kurumi Nara, 6-2,6-4
Ksenia Milevskaya/Urszula Radwanska (2) defeated Kristy Frilling/Asia Muhammad, 7-6(8),7-6(4)
Quarterfinals
Misaki Doi/Kurumi Nara defeated Polona Hercog/Stephanie Vogt, 6-4,3-6,6-4
Oksana Kalashnikova/Ksenia Lykina (3) defeated Tyra Calderwood/Julia Glushko (7), 6-2,5-7,7-5
Kristy Frilling/Asia Muhammad defeated Lenka Jurikova/Katarzyna Piter (4), 4-6,6-1,6-1
Ksenia Milevskaya/Urszula Radwanska (2) defeated Kaludia Boczova/Kristina Kucova, 6-2,6-2
---

Monthly Guides to
College Tennis Planning
Available in Kindle, Print & EBook
for H.S. Seniors
and H.S. Juniors
Return to:
College And Junior
Tennis Homepage