At The Open
With Marcia Frost...
Tuesday, August 19th-Qualifying, Day One
It was day 1 of 21 as I set up my desk and got myself ready for the longest running U.S. Open column on the web. It's an undertaking I both love and hate each year, as it is exhausting and exhilirating.
It's days like today that make it all worthwhile when I get to see some kids break through -- and even get to give out congratulatory hugs!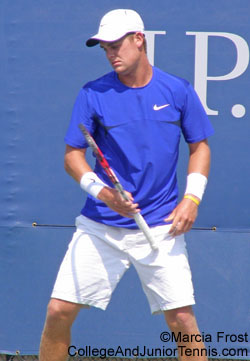 There was no fear in 16 year old Kristie Ahn as she took on Yevgenia Savranska of the Ukraine. It may have been the U.S. Open, but it was just an hour from her New Jersey home and she had a lot of support. Despite the fact that nearly all the games were long ones, they belonged to the No. 3 ranked junior in the country as she was confident in attitude and solid in play, earning a 6-3,6-2 victory.
Nothing was easy today for the University of Georgia's Travis Helgeson (right). It was clear from the first (endless) game that it was going to be a battle. After a tight first set that Travis squeezed out in a 7/5 tiebreaker, the second went to 7-5 for Brazil's Caio Zampieri before a trainer was called. Travis could not get well enough for the third, and dropped it 6-1.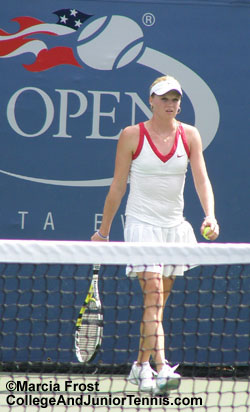 I often ask players whether it's more difficult to play someone you know or someone you don't. I get varied answers, however, today answered one part of the question -- you can get some strange scores when two people know each others' games. Such was the case with two teenagers (who are professionals now).
Kim Couts (left) and Lauren Albanese often train together at the USTA center in Boca Raton, Florida, after having gone through the juniors playing each other. It led to a back and forth competition with Lauren taking the first 6-4 and Kim commanding the second 6-2. It was Lauren Albanese who stepped it up a bit and took the third 6-3.
There was no problem for 15 year old Sloane Stephens. Playing to a main draw size crowd, the Floridian showed what she had. The crowd was impressed with the power-hitting teen as she took veteran Melinda Czink in a quick 6-3 first. It was a bit more work for her in the second and I came back to find her down 5-3 before she came back for a 7-5 set.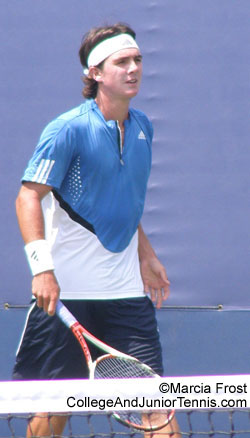 There was no comeback for Chase Buchanan (right) even though he ran through the first set for an easy 6-1. (He was actually up 5-0 at one point.) The easy match didn't last long for the 17 year old, though, Ricardo Hocevar of Brazil got in a fighting spirit and did just that. He had the second 6-3 and, as the crowd crew wider and louder, brought the second into a tiebreaker that kept everyone guessing until the Chase lost it 8/6.
I have quite a busy schedule for Wednesday as I attempt to watch college and junior players Amanda McDowell, Bryan Koniecko, Julia Cohen, Alex Clayton, Jean-Yves Aubone, Julia Boserup, Ryan Harrison and Christina McHale!
Until Tomorrow,
Marcia Frost