At The Open
With Marcia Frost...
Thursday, August 21st-Qualifying, Day Three
There are some days (like yesterday) where I make up a schedule of everyone I want to watch and then go from court to court. Then there are days like today when that schedule totally gets thrown out. And sometimes that's a good thing.
The one thing that didn't change on Thursday was the place I wanted to start. After brief stops to see two winners -- former junior Alex Kuznetsov and Ryan Sweeting, the 2006 U.S. Open Junior Champion who did a short stint at the University of Florida, I headed over to watch 16 year old Kristie Ahn face a former college star, Jelana Pandzic.
Jelena has quite a college tennis history, having made the NCAA Division I finals playing for Fresno State, and then transferring to NAIA Fresno Pacific after controversy over her taking prize money. Since that time, she has done quite well on the tour and earned a seeding (31) at this event.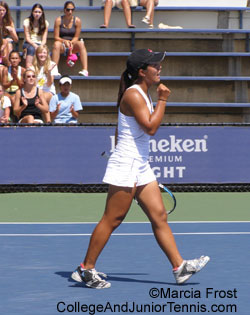 New Jersey native Kristie Ahn had quite a supportive crowd for her match against the 25 year old Croatian. Whether that was what motivated or not, there was no doubt that Kristie was in it for the win. She came out swinging, taking the first five games before a shell-shocked Jelena.

With only a few service problems separating her and perfection, the spectators could do little but say "Wow.." and cheer. Kristie was beautiful to watch and whatever Jelena did she did one better. Many of the games were close, but the teenager took it home, 6-1,6-3.

When Kristie finished her match, I had a bit of time before Sloane Stephens was to go on so I decided to sit down and watch Ryler De Heart vs. Woong-Sun Jun. Well, a few minutes turned into a few hours of a match that I just couldn't leave. And I had plenty of company.

The first time I met Ryler De Heart, it was at a USTA Pro Circuit event in California. I was actually out there on vacation (yes, I still go to tennis tournaments while on vacation) and I drove to the event to meet a friend there. We sat down to watch Ryler comeback to push a third set and eventually win the match.

Ryler was an unseeded college player and he pulled an upset when it looked like he was down and out. I have seen him play many times since then and the one thing I know is that you never count Ryler De Heart out. He's the comeback kid and today he proved it. Despite giving up match points in the second, he came back from losing the second set tiebreaker, pushed through the cramps and defeated the Korean.

It was a match filled with more deuces than I've ever seen, with both players giving the crowd one that would not to be forgotten. But when American Ryler De Heart, a graduate of the University of Illinois, did pull it out 6-4 in the third, the U.S. Open crowd couldn't stop cheering.

I never did make it to see Sloane Stephens (who fell to Stefanie Vogele, 6-1,6-3). I did catch bits and pieces of other matches, feeling satisfied that I had caught two incredible contests today. I saw Florida State's Jean-Yves Aubone attempt to stage a comeback in the second set before losing to No. 18 Bjorn Phau, 6-2,6-4.

I also saw 2007 NCAA champion Audra Cohen try her best without luck to get past Kristina Barrois before the 26th seed took her, 6-2,6-4. Also falling were teens Lauren Albanese and Madison Brengle. UCLA's Harel Levy of Israel lost a tough 7-6(7),1-6,6-3 to Michal Przysiezny of Poland.

Friday is the final day of Qualifying and there is a lot at stake for the last 32 as they go for the 16 positions. I'm sure there will be plenty to watch.

Until Tomorrow,
Marcia Frost


P.S. I found out that it was back spasms that caused Ryan Harrison to drop the final set so easily yesterday.