At The Open
With Marcia Frost...
Friday, August 22nd-Qualifying, Day Four (the final day)
It was almost a carbon copy of yesterday as I watched two familiar faces win, but this was the big one as the Qualifying came to a close and a little belief and a lot of "heart" paid off.
Before I got to my most anticipated matches, I checked in with two other men. Robert Kendrick is a former college player, having done a year at the University of Washington and a year at Pepperdine before turning professional. He's had some good results over the years and last year made the quarterfinals (with Sam Querrey) in U.S. Open doubles. Today the fourth-seeded American earned a spot in the men's singles draw with a 7-6(5),6-3 win over No. 24 Simon Stadler. I saw some great points, including the tiebreaker that went down to 7/5, before heading up the scaffold to the RadioTennis.com booth.*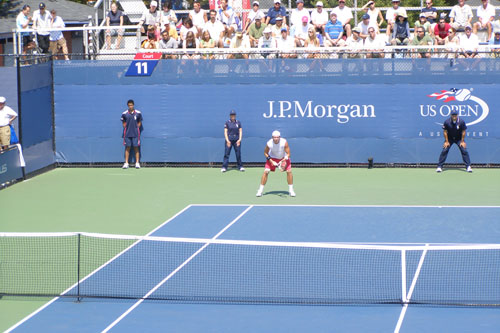 The two matches I wanted to see were scheduled for the same time, but I was lucky enough that Court 13 was running late and I could sit down and watch the entire first set of Ryler De Heart vs. Diego Hartfield. Ryler had survived a close one yesterday and this match was not much different. As for Diego, I had never seen the Argentinian play and it was a change of pace. He was larger in build than the majority in the men's draw, though very quick for his size. He also had an incredible serve that seemed to just chip the corners of the box. Ryler's serve was also on today and it made for a very tight match.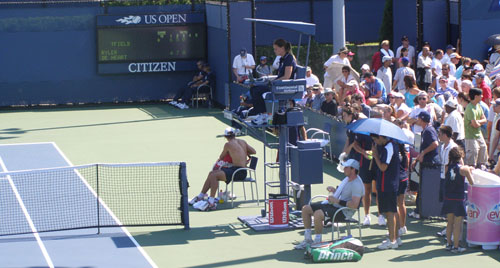 It was one break at 3-3 that separated Hartfield and De Heart. That gave him the 6-4 set and it was on two another close one. Ryler, a graduated member of the University of Illinois, was ready to get back in it. He had two break points in the first game, and three in the third, finally capitalizing on the opportunity for a 3-2 lead. From there the match proceeded on serve until Ryler tried to close it out (with four set point opportunities) at 5-4 and instead Diego had his break back.
Now, there were some things going on that made this match even more exciting than the multiple break points and deuces. First, both players had leg injuries (it appeared to be a twist of the calf for Diego and a thigh cramp for Ryler), yet they both kept it going at a top pace between limping and obvious pain. Second, the crowd was growing to a point I have never seen at a Qualifying match. As Ryler De Heart finally took the second at 7-5, the applause was heard around the USTA Billie Jean King National Tennis Center.
There was only one thing that could make a match of this caliber more exciting -- a tiebreaker to end it -- and that's exactly what happened. While the crowd screamed for the American he pushed through the pain for a 7/3 breaker and his first main draw berth at the U.S. Open.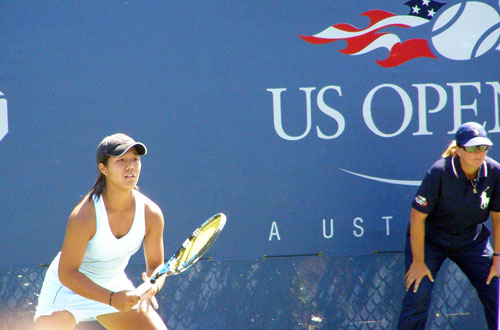 Kristie Ahn, the sixteen year old wildcard from New Jersey, was playing fourth-seeded Anna Lapushchenkova on the next court over so I was able to see a good part of that match too. I watched Kristie once again mesmerize her opponent without an ounce of fear. As steady and on as she was, the Russian became more rattled. Though Kristie had a bit of a downfall, dropping two games from her 5-2 lead, I watched her then take the set with a fist and a "C'mon!" I did not see much of the second as the edge-of-your-seat excitement seemed to be more next door, but I was able to listen and can tell you it was finished long before the men had their's done.

Before the day finished, I got to see some of Alex Kuznetsov's fall to Pablo Cuevas (17). It was a tough one for the American as he was run around the court, dropping the first 6-3, only to come back in the second 6-4 and then losing the third in the same score. There was a third set comeback for Alexa Glatch, who I feel has been playing the "women's" events forever even though she is still just 18. The Californian survived Russia's Nina Bratchikova, 6-3,3-6,6-2. I didn't get to see any of the other two American winners, Ryan Sweeting and Shenay Perry.

There is a two day break in tennis for the players to rest before the main draw begins. Tomorrow is Arthur Ashe Kids' Day. I have been covering a bit of that and all of the ITA All Star Outing/Award Ceremony the last three years, but I'm told there is a space problem this year so there may not be coverage of the college all-stars. But you will see me at the Open on Monday for lots of college and junior players from the main draw.

Until Tomorrow,
Marcia Frost


*I had a great on air conversation with Ken Thomas on RadioTennis.com about college tennis and my American Doubles book. He puts on an incredible show from various tournaments and is definitely worth the listen.