At The Open
With Marcia Frost...
Tuesday, August 23rd
Qualifying, Day One

Okay. I have to bring it up. Just once and then I promise I will get off my soapbox (at least for the next three weeks)...
I wrote an article for Racquet Sports Industry on the lack of U.S. Open Wildcards for college players. The article was reprinted with permission by the ITA and passed along the tennis community. I received an outpouring of letters and phone calls about the story. All were supportive for more wildcards for college players -- some of these responses even coming from USTA employees. Then the wildcards for the U.S. Open were announced and there was not one college player among the group. Yes, I am disappointed, but it's said and done and it it's time to move on (at least for this year). So I will conclude this editorial by just saying that the closest thing to a college player in the qualifying draws, recent University of Miami graduate Megan Bradley, was the only one of this year's wildcards I saw win today so just maybe there is something to be said for college tennis.

* * *
The secret is out. The U.S. Open Qualifying is a great event and there is no admission charge. Anyone can come see some of the best tennis players around for an hour, a day or the week. While it certainly doesn't attract the crowds of the main draw, there is an audience for the U.S. Open Qualifying that the players deserve.
The first match I saw today was seventeen year old junior American Jesse Levine vs. Germany's Bjorn Phau. Jesse has been playing mostly ITF tournaments and this was my first time watching him play. I could see by his resume (he's a Junior Wimbledon doubles champion and singles quarterfinalist, for one thing) that he is a great player. Today, however, he was a bit too nervous out there to get much done. It was actually at 6-4,2-2 where I begin to see some great points and Jesse take advantage of his southpaw status. It was too little too late as he also lost the second, 6-2. I look forward to seeing Jesse play in the Junior Championships where he is more comfortable.
If Alex Clayton was nervous today it was certainly not visible. Perhaps the months of having cameras following him filming the Road To Kalamazoo documentary made him more confident in front of an audience, but whatever it was Alex played an aggressive game. This talented teen impresses me everytime I see him and he held on as the 28th seeded Marcos Daniel would not go down. It was maturity that won the match at 4-4 when Alex had a chance to take the lead with four game point opportunities, but lost his serve on double faults. He again held on through three match points until Daniel got by, 6-4,6-4. Alex will have another chance in the Junior Championships where I put him as a favorite.
There was one more seventeen year old out there today. I just caught some of the match between Krysty Marcio, who has been playing as a professional for the past year, as she fell rather quickly to Su-Wei Hsieh, 6-1,6-3. I did make it to see the Megan Bradley match against Mariya Koryttseva. I had first seen Megan play at the 2001 U.S. Open where she played Women's Singles & Doubles; Mixed Doubles and Junior Singles & Doubles, finishing in the finals of the latter. She was on her way to UCLA at that time. Though she transferred to the University of Miami and had some brief downtime, Megan remained on top of the college rankings for most of her four years. Now she is a graduate and out on the tour. Today she proved that her decisions were the right ones as she eliminated Mariya Skoryttseva with a more polished version of the talent I saw four years ago.
In between matches I managed to sneak over to see one of my favorite former college players, Amer Delic. It seems that I am not the only one who feels that way as Amer's cheering section seems to get louder at every event. This group had quite a lot to cheer about as the former NCAA champion took Great Britain's Alex Bogdanovic in a 7-5,7-6 thriller. Even though the score was certainly nothing like that, it really was a great match between sixteen year old Julia Cohen and 26th seeded Yvonne Meusburger. Julia, who has has success in ITF Junior events, USTA Pro Circuit tournaments and National Junior Championships, has never had much luck at the National Tennis Center. While today didn't prove to be much different, Julia looked solid out there as she ran down point after point and hit winner after winner. Unfortunately, the Australian hit just a few more and the match was much closer than the 6-2,6-4 score showed. I think Julia just may be ready this year to do some damage at the Junior Championships.
Tomorrow will bring another crop of junior players trying to make use of their wildcards. Only time will tell if any of them will succeed.
Until Tomorrow,
Marcia Frost
Click on a photo to enlarge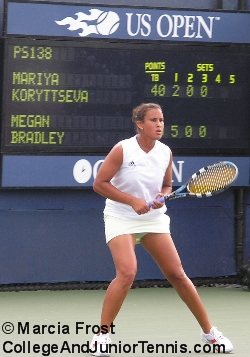 Megan Bradley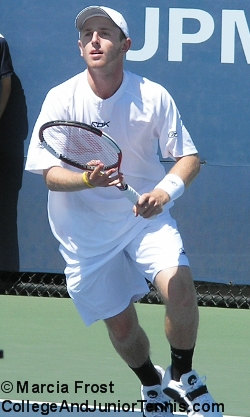 Jesse Levine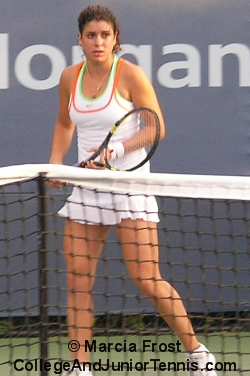 Julia Cohen
Alex Clayton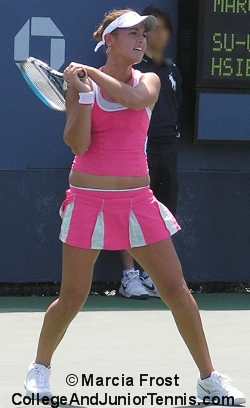 Krysty Marcio
Monthly Guides to
College Tennis Planning
Available in Kindle & Print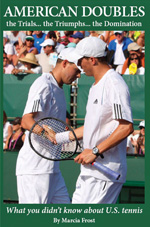 ---
---
Monthly Guides to
College Tennis Planning
Available in Kindle & Print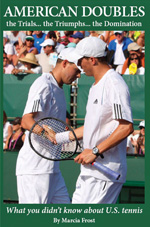 ---
The Latest News at Tennis Week
---
---
---
Return to:
College And Junior
Tennis Homepage