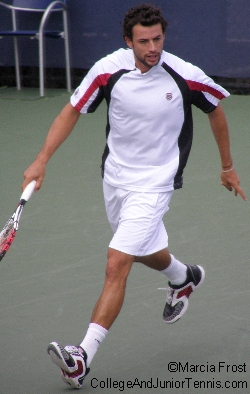 Lester Cook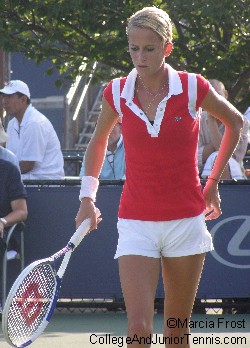 Lindsey Nelson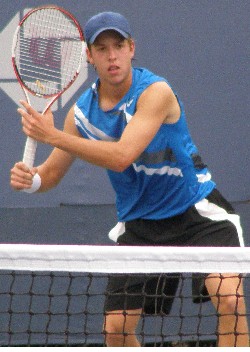 Matt Bruch


click on a photo to enlarge
At The Open
With Marcia Frost...
Thursday, August 23rd-Qualifying, Day Three
(a computer crash kept this from posting earlier)
It was a pretty good day for college tennis and junior tennis as a few players kept it going, while others fell.
The sun finally came out and, thought it was a bit humid, everyone was just happy to get in a full day of play. And there was certainly plenty for me to watch, beginning with 15 year old Melanie Oudin. Melanie, whom I was impressed with three years ago as a 12 year old star the Girls' 16 Nationals, made me take notice again today. She came out against Japan's Ayumi Morita making it clear that she was in charge. The petite blonde quickly dismissed her opponent, 6-2,6-0.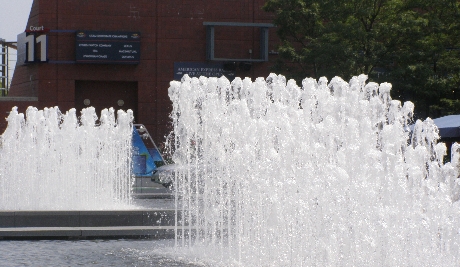 It was not a good one for Stanford University's Matt Bruch. The 20 year old kept in the game with 15th-seeded Alejandro Falla through long, baseline points and deuce games, but the COlumbian was the leader on the board -- 6-3,6-1. It was a similar match for junior player Asia Muhammad. The 16 year old just couldn't get past No. 25 Melinda Czink of Hungary, though there were long games in the first and some great points in the second before she went down, 6-2,6-2.
Lindsey Nelson, this year's women's singles NCAA finalist, kept right in the first set, trading breaks and rallies. Finally, on the third set point, it was Stephanie Foretz who took the breaker, 7-5. From there the University of Southern California senior couldn't furnish her famous comeback for the second (though she did have a brief rush and won the game when down 5-0) and lost 6-1.
If ever there was a testament that you can gtone your talent in college while getting a college degree it was on Court 13 today. This afternoon Illinois grad Ryler DeHeart and former Texas A&M player Lester Cook finished their incredible battle. It was a close one all along and it went to Ryler, 6-7(4),7-5,6-4. Also finishing a rain delayed match was Coco Vandegwhe. She had just startyed to lead with a 6-4 second set and a 4-2 third when the rain came Wednesday, but ended up losing the third today, 7-5, to Maria Jose Martinez Sanchez.
Seventeen year old Alison Riske, who had upset No. 30 Sorana Cirstea in the first round, lost today to Julie Ditty, 6-2,6-1. I had run into a beaming Alison earlier in the day and she was enjoying the whole U.S. Open experience, also her first trip to New York. Alison will be leaving the draw (she will play again in the Juniors) with great memories as a few more (post) college and (present) junior players move on.
Until Tomorrow,
Marcia Frost