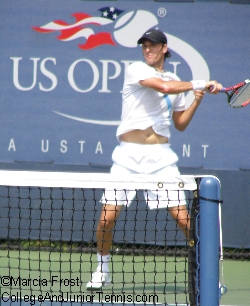 Sam Warburg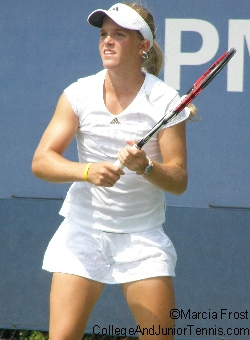 Melanie Oudin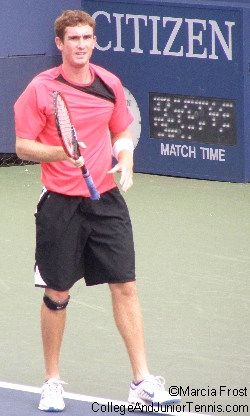 Ryler DeHeart
Brian Wilson
click on a photo to enlarge
At The Open
With Marcia Frost...
Friday, August 24th-Qualifying, Day Four
It was a fairly quiet one for me (one I would have enjoyed a lot more if I wasn't dealing with a computer crash), but I did find some great tennis to watch at what should be have been the last day of U.S. Open Qualifying.
I wondered over to check out Stanford grad Sam Warburg, who was playing No. 18 Lukasz Kubot. He was down 3-0 when I got there, but rallied to 5-4 with some great winners. It wasn't enough as he lost the first set 6-4 and then was forced to retire at 1-0 in the second (I have not found out the reason as of yet, I had left to watch Melanie Oudin).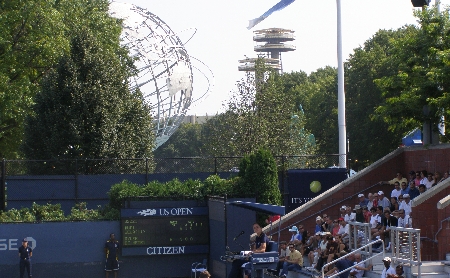 There was lots of excitement at the Ryler DeHeart-Dudi Sela match and a lot of it was not on the court. There was a huge crowd to watch the two hard-hitters and unfortunately one patron passed out. After the U.S. Open medical personnel and ambulance came, the woman was revived and taken to the hospital by stretcher and the match resumed after about a half hour delay. The 11th-seeded Dudi had a host of incredible shots that the University of Illinois grad could not get past before his 6-3,6-3 loss. Also falling today was Ryler's former teammate, Brian Wilson, who lost a really close one -- also with incredible shots -- to Bruno Echagaray, 6-4,7-5. (Two more former members of the undefeated 2003 Illinois team, Amer Delic & Rajeev Ram are ranked within the top 100 of singles and doubles respectively and will play in the main draw.)
The final round of Qualifying will be played tomorrow after the Arthur Ashe Kid's Day festivities. Tomorrow is also the ITA All Star Outing and I will be on hand for the festivities honoring the top players in all divisions of college tennis.
Until Tomorrow,
Marcia Frost