At The Open With Marcia Frost...

Tuesday, August 24th-
Men's & Women's Qualifying, Day One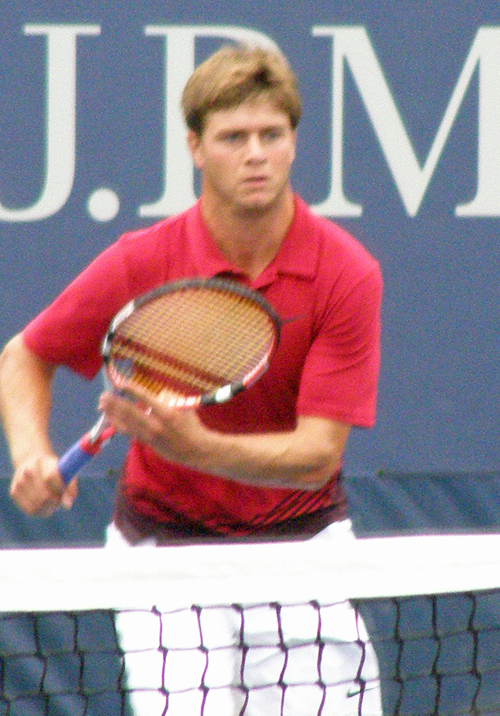 Last year was the first time in 10 years I was unable to be at the U.S. Open for three weeks. It's pretty amazing to realize that this is the 11th year I am doing this column, a yearly staple which has been read by millions.

I have watched players grow up, from playing their first match in the junior qualifying, to retiring after a professional career. I've also watched successes like the Bryan Brothers -- now officially the greatest doubles team of all time with a current record of 64 tournament titles -- and John Isner go off to college and then come back to America's Grand Slam event. Of course, everyone wants to know who the next tennis stars will be and where some of the current ones came from, so follow me for the next few weeks as I watch past, present and future college and junior standouts at the U.S. Open.
---
I got to play catch up with lots of players today, but I'll save more reminiscing and get right to the tennis -- what there was of it. I had heard that it was a very dry, extremely hot summer in New York. I have yet to see any of that. The temperature had trouble climbing to 70 today and a (mostly light) rain brought delays and cancelled matches. The weather had no effect on Ryan Harrison (above). The 18 year old Texan was the first of the matches off the court, entering the rain delay with a 5-0 lead and dismissing Jonathan Dasnieres De Veigy of France, 6-1,6-4, soon after.
Greg Ouelette (left), a 2008 graduate of the University of Florida, was up against the power forehand of Ricardo Hocevar of Brazil. He held his own in the first set, before falling in a breaker, but came back to take the second 6-3. In the third, Hocevar turned it up a notch and took it away at 6-1. It was a better day for two more former college players as Bobby Reynolds, who played for Vanderbilt, pulled out a tiebreaker and then took the match with confidence over Australia's Chris Guccione. Also looking good out there was Robert Kendrick. The 30 year old did stints at the both Washington and Pepperdine.
Sloane Stephens, who turned professional this past March, was looking like a pro on Monday as she beat Anals Laurendon, 6-4,6-1. Bob Van Overbeek (below), this year's Kalamazoo finalist, will not have to wait to start at the University of Florida. Nerves appeared to get the best of him as he fell to Croatia's Nikola Mektic, 6-4,6-0.
Ohio State Buckeye Chase Buchanan looked like he was about to finish off a tough match filled with tension (even off the court, as Federico del Bonis' coach and one of Chase's teammates were battling in the stands). Look for a full report at the conclusion of that match on Big Ten Tennis.
There's lots more college and junior players to look at on Wednesday and the weather is looking a bit better, though still on the cool side for this time of year.
Until tomorrow,
Marcia Frost


Monthly Guides to
College Tennis Planning
Available in Kindle, Print & EBook
for H.S. Seniors
and H.S. Juniors

---
Return to:
College And Junior Tennis