At The Open With Marcia Frost...
Friday, August 26th
Qualifying, Final Day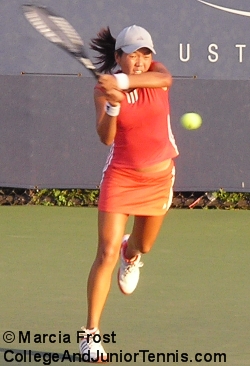 I spent most of the day at the West Side Tennis Center with the ITA Collegiate All-Star Team, but I arrived at the National Tennis Center in plenty of time to see Vania King's third three-setter in as many nights. Where she gets the energy, I don't know, but she pulled it out again to earn her place in next week's main draw.
Though the opponent may have been different, the match looked very much the same as the Southern California teen faced No. 30 Edina Gallovitz. Vania seemed to come out a bit more aggresive this evening and managed to work through the Romanian's deadly slice. She won the first set 6-4 after a series of breaks back and forth. The second set was reminiscent of last night when the 16 year old was up 5-1 and lost the set. This time it was a 5-2 lead and a tiebreaker set loss.
The third set was up for grabs as the players kept up an even pace. It was Vania's volleying and footwork that I feel gave her the slight edge. This one was not any easier for her to close out, though. There were an unbelievable eight match points in the final game with the last one being the charm for the spot in the U.S. Open women's main draw.
While Vania was on court fighting for her place in next week's event, her doubles partner Alexa Glatch (who already has a wildcard in) was across town at the Westside Tennis Center playing in the Sony Ericsson WTA Tour Tennis Classic semifinals. Alexa had a great tournament, but fell in the semis to Sania Mirza, 6-4,6-4.
The Qualifying is now over at the U.S. Open Championships. Tomorrow is Arthur Ashe Kids Day and then Monday it's on to the main event.
Until Tomorrow,
Marcia Frost
P.S. Dear USTA... Can we please schedule Vania for a day match next week? I could really use the sleep.