At The Open
With Marcia Frost...
Tuesday, August 26th-Main Draw, Day Two
It wasn't a great day for American wildcards as experience prevailed and they fell one by one.
I don't want to jinx anything, but I've never seen so many perfect weather days. It's been about 80 degrees without a cloud in the sky everyday here and Tuesday was no different. Unfortunately, the tennis was far from perfect, though Kristie Ahn's performance over the last week has been just phenomenal.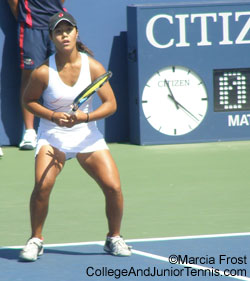 After making it through the three Qualifying rounds on her wildcard, Kristie Ahn (right) was put in front of No. 6 Dinara Safina on Louis Armstrong Stadium. Just as the 16 year old had all week, she remained calm and in control, even using the "challenge" system for a very close point. She held the Russian on serve, in fact, taking most of her service games through the first set quickly.
The New Jersey native challenged her opponent to deuce games on hers. It was at 3-2 that Dinara stepped up her game beyond Kristie's for a break and then took the first, 6-3. I left before the second, but I'm told that Kristie was in it all the way and, judging by the 6-4 score, I believe it.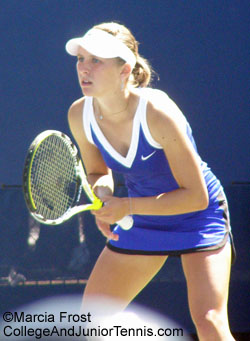 Gail Brodsky (left), who won the Girls' 18 Nationals and the wildcard that comes with it, was also first up on Tuesday. The hometown girl (she's from nearby Brooklyn) played before a packed crowd. I arrived when it was 4-3, with 13th seeded Agnes Savay up a break.
It was a tight set and Agnes was definitely surprised by the winners the 17 year old was throwing out there, however, Gail did not capitalize on the opportunities she had in break points and even a set point at 5-4. It turned to the Hungarian for a 7-5 win.
In the second set, there were still some good points and close games, but also mistakes. Gail just couldn't shake off the first and fell 6-3 in the second. Though she turned professional last week, Gail Brodsky is still planning to play the junior event next week.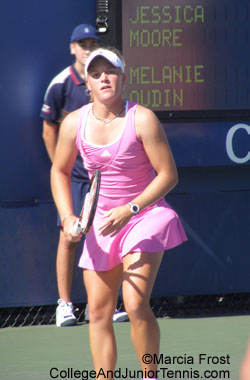 They were both wildcards and just a year apart in age, so it was no wonder that it was close between American Melanie Oudin (right) and *Australian Jessica Moore. It was a marathon of nearly two and a half hours that neither player would let end.
I can't say it was the best of tennis from either Melanie or Jessica. There were countless errors, but it had what it takes to keep everyone on the edge of their seats -- missed opportunities, tiebreakers and games that just never ended.
In the first, there was one break for Melanie for 6-5, followed by a break back that brought it into a tiebreaker. I'd say it was this first breaker that had the best points, with Melanie taking a mini at the beginning and then dropping it and the set to Jessica, 7/5.
The second set between 17 year old Melanie Oudin and just turned 18 Jessica Moore (below left) was pretty much the same as the third, finishing with an identical score, though there was one game that took most of the time and was probably the real difference in the outcome. With Jessica serving at 2-1, they went into a seven deuce run, with the Australian eventually holding.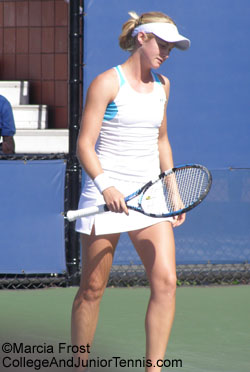 I only saw a bit of another match that gave new meaning to the word marathon. American Bobby Reynolds, who played college tennis for Vanderbilt, outlasted the Czech Republic's Tomas Zib, 6-4,6-7(3),2-6,6-4,7-6(4).

There was also some great doubles with one match in particular that is worth taking note of. Amer Delic & Alex Kuznetsov defeated Robby Ginepri & Travis Rettenmaier, 6-4,6-7(6),6-4. What make that so interesting is the fact that Amer and Robby will again face each other in singles and I think that is only a sample of what is to come on Armstrong Stadium Wednesday. I hope they will be televising that for all to see.

I will be watching that, along with Kalamazoo winner Austin Krajicek, who currently plays for Texas A&M; and a host of great American doubles and mixed doubles teams.

Until Tomorrow,
Marcia Frost


*The United States has a wildcard exchange with Australia. A U.S. man and woman gets wildcards into the Australian Open and two Australians get into the U.S. Open.