At The Open With Marcia Frost...

Thursday, August 26th-
Men's & Women's Qualifying, Day Three

It looks like the rain is finally gone and play can get back to (two day behind) normal. There were many past and present college and junior players on court today and I did my best to catch as many as possible. One I didn't get to was former Georgia Tech Yellowjacket Irina Falconi. Irina, who turned professional this summer, defeated Mona Barthel quicker than most players took to warm up. I did make it over to see incoming Virginia freshman Alex Domijan (above), who lost a tough battle to Bastian Knittel, 7-6,6-4. Another college player, Sothern Cal's Steve Johnson, looked a bit nervous out there and fell in his first round match to Israel's Noam Okun.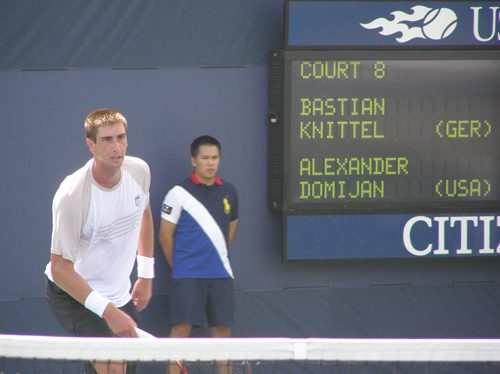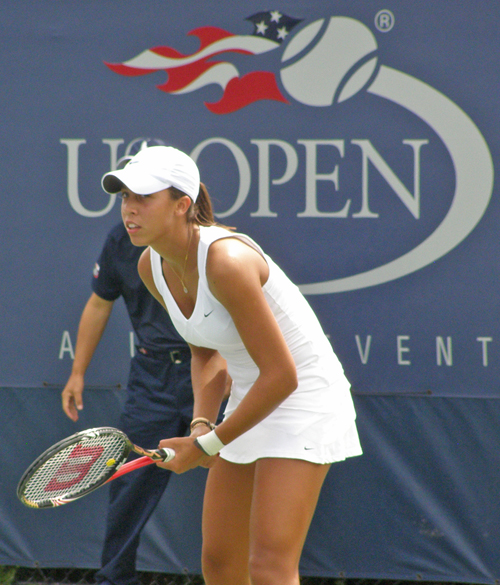 I did make it back and forth to Madison Keys match, a back and forth affair that she dropped in the end with a 3-6,6-4,6-3 score to eleventh-seeded Maria Elena Camerin of Italy. It was a win, though for 15 year old Krista Hardeback, who looked relaxed out there playing her first New York tournament. Here victory over Japan's Yurika Sema puts her in a second round match with No. 11 Patricia Mayr of Australia. Also advancing to the second round was junior Nicole Gibbs and Julia Cohen, whose college affiliation I am confirming (she was at Florida, Miami and then California of PA. Julia. Julia Boserup fell in the second round to Lourdes Dominquez Lino.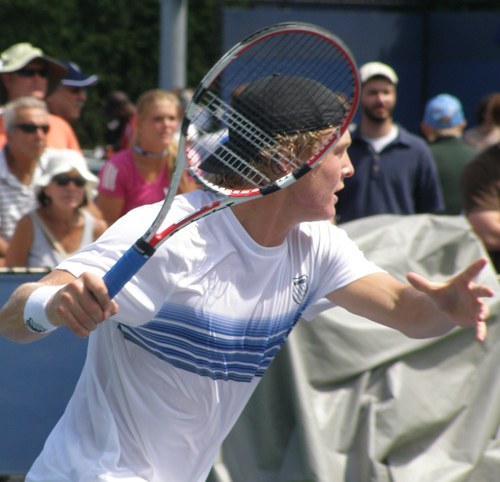 Even a great first set tiebreak win and support from friends like Melanie Oudin, who spends a lot of time watching her peers, could get Jordan Cox through his match with No. 29 Uladziir Ignatik, who beat him in the end, 6-7,6-4,6-3.
Blake Strode, a 2009 graduate of the University of Arkansas had won entry into the US Open by winning the national playoff. It looked to be a quick exit as Great Britain's Alex Bogdonovic had him 6-3 in the first set, but Blake came back, Alex retired with an injury at 5-2 and the Razorback had entrance into the second round.
Both Ohio State's Chase Buchanan and former Illini Rajeev Ram finally finished their rain delay matches. For more on those, visit Big Ten Tennis.
Until tomorrow,
Marcia Frost


Monthly Guides to
College Tennis Planning
Available in Kindle, Print & EBook
for H.S. Seniors
and H.S. Juniors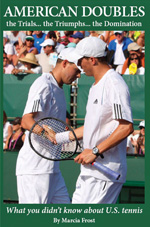 Return to:
College And Junior Tennis