At The Open With Marcia Frost...
Friday, August 27th
Qualifying, Final Day

It was a great run, but it ended today for Brendan Evans. Japan's Takao Suzuki showed the eighteen year old the end of the Qualifying.
This time Brendan was on the receiving side of aces. Takaao seemed to have studied every flaw in Brendan's game and taken advantage of it. And today there more flaws than usual. That, added with an incredible slice and more precision than power, was all he needed. The first set was all Takao as he stunned the teen to 6-1. While Brendan had some good points, he was mostly shocked by the first player this event to return all of his serves. By the final game he held off two match points more by luck than anything else and Tako won the match at 6-2. For Brendan there won't be much time to worry about the loss as he has a lot more tennis in the Junior Championships and possibly the Men's Doubles.
When the Qualifying finished, only one American remained among all of the wildcards. That one player was twenty-one year old Shikha Uberoi. I caught some of her match today. The former Princeton standout shocked the 29th seed, Vilmarie Castellvi, 6-4,6-2. Vilmarie, a former college player herself (University of Tennessee) held Shikha close at the beginning of the match through some long, exciting points, but could not keep up the momentum.
Also on the schedule today was the WTT semifinals which will be followed by tomorrow's finals. There was quite a crowd on Court 11 for the event which mixes music, tennis and lots of fun. Among those on the court were former junior tennis player David Wheaton, WTA player Corina Morariu and former University of Southern California coach Dick Leach.
This year's US Open Qualifying was a different experience than most before. Usually a showcase for college students, there were none in this year's draws. Instead, there were more juniors than I can remember ever seeing there before. It is unfortunate that none were able to break through. Maybe those extra years of experience are what is really needed. A few more juniors will have the opportunity to try to prove that wrong in the main draw along with two-time NCAA winner Amber Liu who, as of the moment, is still a Stanford student.
Before all the heavy competition and suspense will be a day of fun. Arthur Ashe Kid's Day is tomorrow. This year's stadium show will feature performers JoJo and Gavin DeGraw, as well as tennis exhibitions with players including Andy Roddick, Serena & Venus Williams, Bob & Mike Bryan, and even Steffi Graf. There will also be kids activities throughout the grounds. Admission is free of charge into the tennis center and tickets are available for purchase for the Stadium show. Proceeds benefit the USA Tennis National Junior Tennis League, established by Arthur Ashe.
Until Tomorrow,
Marcia Frost
Click on a photo to enlarge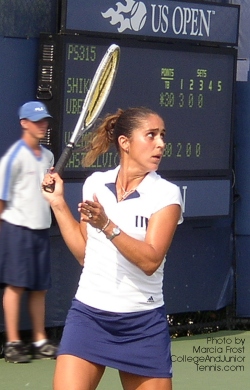 Vilmarie Castellvi
Brendan Evans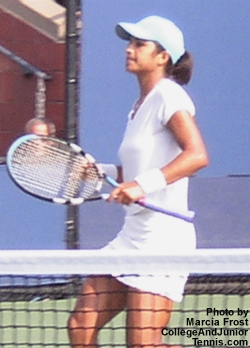 Shikha Uberoi
David Wheaton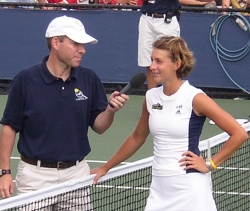 Corina Morariu
Return to:
College And Junior
Tennis Homepage