At The Open
With Marcia Frost...
Monday, August 27th-Main, Day One
I began the day at the National Tennis Center at 10:00 am. The schedule only showed matches that I wanted to cover first and second on. I was looking at an easy day of coverage, with plenty of time for me to catch up on some work the rest of the day. Little did I know that eight and a half hours later I would be sitting and watching one of those second on matches.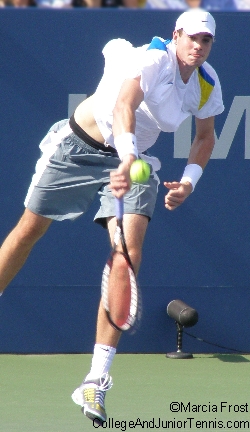 It is only fitting that I begin the story of today at the end because that is the part that really matters. John Isner won his first professional match at the U.S. Open -- on Louis Armstrong Stadium upsetting No. 26 Jarkko Nieminen. The former Georgia Bulldog, who made the NCAA finals just before graduating this spring, had played over three hours and become a fan favorite. Cheers of "Go Dawgs" seemed to come from people who had no idea what it even meant. And it worked.
The match was mostly the kind of match I don't like to watch -- fast serves and quick points -- throughout the first sets. John was certainly the service leader (34 aces in total), but he also led in unforced errors (70), the vast majority in the first two sets. But as the crowd grew louder and more supportive, his confidence grew.
It was actually the fourth set before there was a service break between John Isner and Jarkko Nieminen. The seed had won the first breaker (7/4) and John took the second (7/4). In the third, though John was pumped and certainly made less mistakes, it was still difficult for him to close out until yet another tiebreaker (7/5).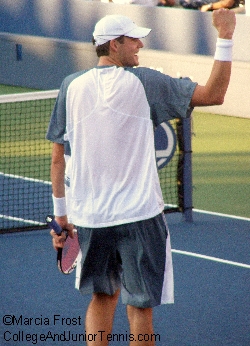 The fourth set was the one that made the statement for John Isner. At 3-3 -- in the 33rd game in the match -- John broke and kept his momentum until he took the set at 6-4 and his first U.S. Open men's match. At the end of the match he addressed the crowd, "This is amazing -- to play here at Louis Armstrong in front of these fans. I'll never forget it." Then John Isner made what may have been the biggest statement of all when asked if he regretted not starting his career sooner, "My four years there (at the University of Georgia) were unbelieveable. Coach Manny Diaz was wonderful."
Unfortunately, the other NCAA finalist (winner, actually) did not do so well today. Audra Cohen, who admitted after the match that she was extremely nervous, could not get it together against Andrea Petkovic. There were some long games and good points that left a positive impression of Audra as one to watch, but it was the German who was clearly in charge despite support in the stands that included the Saiontz sisters (junior Rachel and Princeton's Melissa) and NCAA double champions Jenna Long & Sara Anundsen. After her 6-4,6-1 loss, I was very happy to hear Audra say that, though she is now a professional and will not be playing college tennis, she has every intention of finishing her degree at the University of Miami while she trains and plays the tour.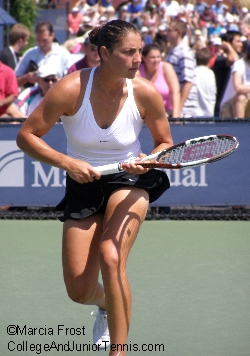 I was able to catch a bit of Donald Young (I know I'll get to see him more in the men's draw or in the juniors so he wasn't on my priority list). I have to say that I've never seen him looking better. I missed the first set that he narrowly lost in a tiebreaker to Australia's Chris Guccione, but he was impressive in the next, serving aces and hitting winners. He took the match by winning the next three -- 6-3,6-2,6-3.
There is not much I could say about Lauren Albanese vs. Elena Likhovtseva -- even though I watched the entire match. There were long games, but not because there were the most exciting of points. Elena was the leader in winners ever so slightly, however, it was a match more decided on errors that was closer than the 6-0,6-2 score the Russian took it with. I'm sure I'll see Lauren play a lot more solid in the juniors.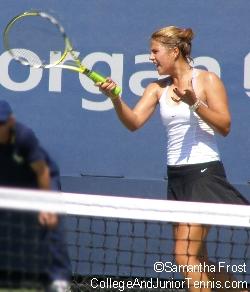 Tuesday will bring a more match-ups in the junior and (former) college world. I had hoped to see a few more wildcards for college players in addition to Jenna Long & Sara Anundsen, but they didn't materialize. There is one doubles match that I'm sure is going to be a thriller -- John Isner & Scott Oudsema vs. Bob & Mike Bryan -- catch it if you can.
Until Tomorrow,
Marcia Frost