At The Open
With Marcia Frost...
Wednesday, August 27th-Main Draw, Day Three
On yet another sunshine filled day at the U.S. Open, I spent most of the day (and evening) watching the men's power game. From singles to doubles, there were serves flying at the speed of light everywhere.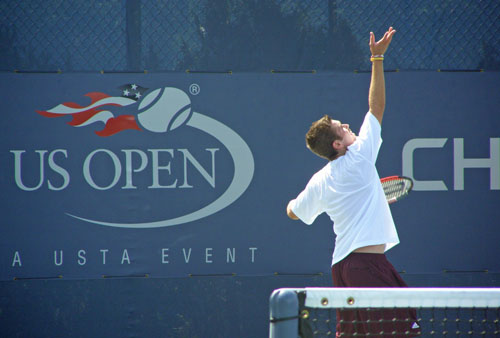 Austin Krajicek has had quite a year. The 18 year old started 2008 out by joining the Texas A&M men's team, where he had a great season and was named co-Big 12 Conference Freshman of the Year. He spent his summer alternating between the USTA Pro Circuit (where he won and doubles title with partner Conor Pollock) and the USTA National Junior Championships, where his singles win at Kalamazoo gave him a wildcard into the U.S. Open. And today he got to use that wildcard.
The crowd was impressed by the young Floridian, but he was just no match for the No. 49 player in the world, Agustin Calleri. The 32 year old was dead on as he rocketed serves and hit winners past Austin. It was a fairly quick match, with a few impressive points from the teen and some close games and a 6-2,6-2,6-1 finish for Agustin..
Though he is still eligible to play, Austin pulled out of the U.S. Open Junior Championships for a very good reason -- he will be accompanying the United States Davis Cup team to Spain as a hitting partner and needs to get to some classes before they leave in September.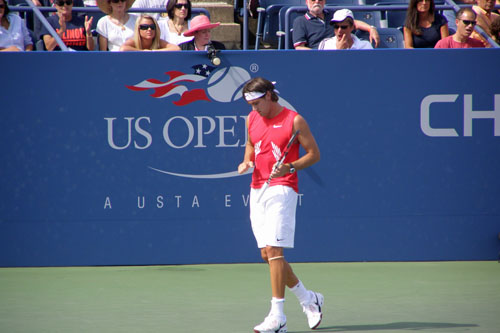 On Tuesday night, Amer Delic and Robby Ginepri faced each other in doubles with Amer & Alex Kuznetsov squeaking by Robby & Travis Rettenmaier, 6-4,6-7(6),6-4. Today it was Amer vs. Robby again, but this time on the singles court of Louis Armstrong Stadium. I expected another nail-biter from the two Americans. Both the crowd and I were disappointed. Amer, who won the 2003 NCAA Singles Championship while playing for the University of Illinois, could not get his game together long enough to get past Robby, who was on his.
He has been recovering from a wrist surgery this year and a visit from the trainer in the second set showed that it has not disappeared. Despite 135 mph serves and a major challenge in the third set, it was Robby Ginepri's match, 6-1,6-2,7-6(5)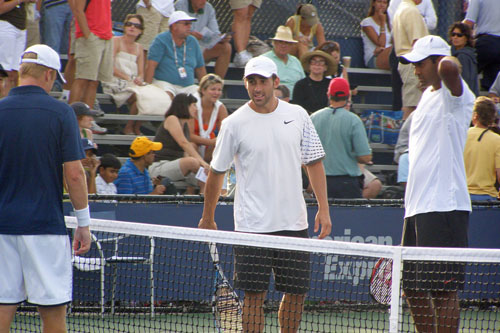 It's not just a book, it's a fact -- American Doubles is dominating the world and there was no better display of it than on Court 6 Wednesday night. It was difficult for me to watch a match between two teams I had interviewed and written so much about playing each other (certainly not as difficult as it was for Chris Martin, who had his former teammate playing opposite his brother). David Martin & Scott Lipsky hold the USTA Pro Circuit record for the most doubles titles won.
Rajeev Ram & Bobby Reynolds are the 2007 record holders for the most doubles won that year. What were the odds that these two teams, who have continued success on the ATP tour and just missed being seeded, would playing in the first round?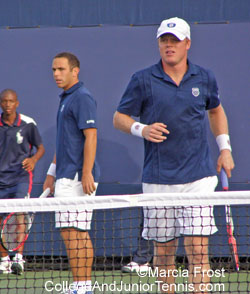 The doubles match went pretty much the way I expected as the large crowd got treated to the best in doubles. All four players had gone to college, with David & Scott playing together and then graduating from Stanford, and Rajeev Ram and Bobby Reynolds each spending a few years at Illinois and Vanderbilt, respectively. There were no breaks in the first two sets, with a tiebreaker to each team. The great points never let up. It was in the third set that the match did swing in one direction as, David Martin's serve was broken and Rajeev & Bobby held it for a 6-3 final. The best thing to come out of this match for everyone, was the reminder of just how great doubles is to watch, which I heard repeatedly from the spectators. And I'll get to watch lots more tomorrow, along with Ryler DeHeart's Arthur Ashe Stadium debut against Rafael Nadal.
Until Tomorrow,
Marcia Frost