At The Open
With Marcia Frost...
Tuesday, August 29th-Main Draw, Day Two
5:30 PM E.S.T.-Well, I am ready to give up on seeing any college or junior players on the courts today even if the US Open Management Committee is still holding out hope. The men's doubles has been officially cancelled and I'm guessing they're going to have to hang up the towels (pardon the pun) any minute now on the rest of the day session. I didn't get a hold of Ryan Sweeting or Luke Jensen yet (tomorrow will be another long, rainy day for all of us), but I did catch up with some other players.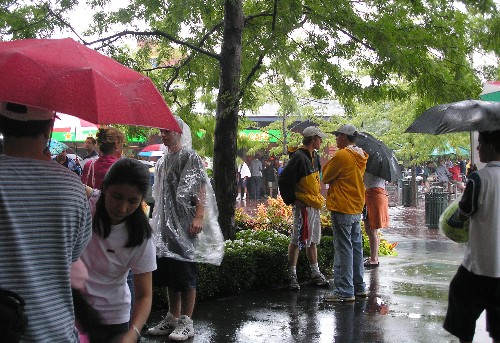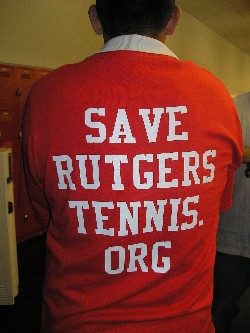 I caught a smiling Alexis Prousis in the Player's Lounge with her family and Northwestern Head Coach Claire Pollard. Alexis told me that she and Anne Yelsey had actually talked about playing together at the Open back in July and put their application in then. Both realized they could not get wildcards with their current (non-American born) partners and thought that their excellent doubles records could get them through. They just found out this Sunday that the wildcard came through and I assured her I would be out there covering her match whenever it's played.
Another surprise came right to me in the pressroom in the form of Harry Cicma of Tennis Live's College Corner. Harry shares my passion for promoting college tennis and he's showing it by sporting a "Save Rutgers Tennis Shirt." I told him I would post this picture and tell everyone to please visit SaveRutgersTennis.org.
12:30 PM E.S.T-It's raining here and I'm not sure when (if) play will begin, but there has been some news items that have come my way in the pressroom that I would like to share...

1. This one definitely shocked me... Luke Jensen has just taken over as the Head Women's Coach at Syracuse University. I am waiting to talk to Luke and find out a bit more about his decision to go from commentator to college coach;

2. Doubles wildcards have been granted to the junior team of Jamie Hampton & Ashley Weinhold as well as college players Alexis Prousis of Northwestern and Anne Yelsey of Stanford. There was talk at Saturday's ITA All-Star Outing of giving doubles (and possibly mixed doubles) wildcards to American college players. I'm glad to see the USTA followed through. There is no way of knowing if they would have done so in the men also because no American men's college tennis players entered;

3. Another plus for college tennis... Ryan Sweeting officially entered the men's singles draw as an amateur, leaving himself able to return to play at the University of Florida when the tournament is over.
I'll keep everyone posted on the weather -- and the college and junior tennis news -- from the U.S. Open.
Until Tomorrow,
Marcia Frost