At The Open
With Marcia Frost...
Friday, August 29th-
Main Draw, Day Five
Junior Open Qualifying, Day One
I may have missed former college players Robert Kendrick, Bobby Reynolds, Riza Zalameda, Tracy Lin and most of Sam Warburg (who all, unfortunately, lost), but I did see lots of action in Flushing Meadow Park today as the U.S. Open Junior Championships got underway with the Qualifying event.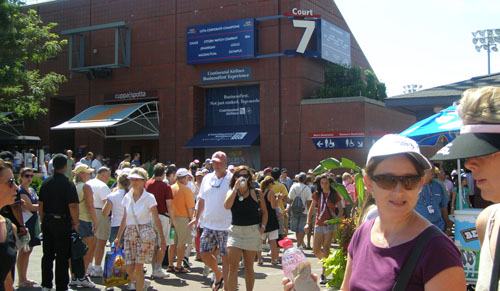 It was definitely not as crowded on the outside courts, where just a handful of spectators were outnumbered by parents and college coaches for the Junior Qualifying. It was a day full of upsets and it was the Americans who were causing them on their home turf. There was a bit too much going on (and not much seating) so I just walked around a bit and caught what I could.
Kyle McPhillips has been a dominating force in the youngest divisions nationally, but she was no match today for top seeded Quirine Lemoine. The 14 year old looked great out there and I'm sure she'll be a contender in the future. Today, however, she fell 6-4,6-2. It was also not a good day for another top American. Lauren Embree was out there the longest of any of the first group of girls matches, giving it her best before No. 9 Karina Pimkina took it 7-6(5) twice.
In the girls' draw, Brooke Bolender guided a quick 6-3,6-4 over fellow American Nicole Bartnik, who was seeded 12. Allie Will may have needed a wildcard to get into the draw, but that didn't lower her confidence as she took out No. 5 Pamela Montez, 6-4,6-1. It was another wildcard, Beatrice Capra, whom I saw looking quite impressive on her way to a 6-3,6-2 win over No. 14 Alejandra Granillo of Mexico. The final upset in the girls draw was in the all-American match up of No. 15 Ester Goldfeld vs. Alexa Guarachi, with the latter taking it 7-5,6-3 in a major battle as I saw Alexa come back from almost losing the first.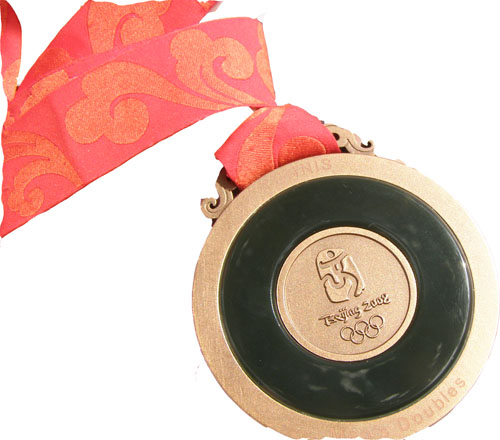 On the boys side New Yorker Matt Kandath took full advantage of his wildcard to eliminate No. 10 Arthur De Greef of Belgium, 6-1,6-2, as did Devin Britton, who defeated No. 13 Liang-Chi Huang, 6-3,6-4. I just caught a little of Nathan Pasha, yet another American wildcard, over No. 8 Ashley Watling 7-6(2),6-2 as it had the largest crowd of spectators.
I was back inside at the National Tennis Center in time for the end of Sam Warburg fighting his best through some great points before succombing to 18th-seeded Nicolas Almagro of Spain, 6-3,6-4,6-4. I also got to see something very special which I have never seen before -- an Olympic Medal. It belonged to Bob Bryan and it was the one he and Mike picked up in Beijing. Congratulations again to them and to the Williams' on their Gold.
There's one more day of Junior Qualifying left so I'll be out there again tomorrow, but I also plan to catch lots of great American Doubles.
Until Tomorrow,
Marcia Frost

click on a photo to enlarge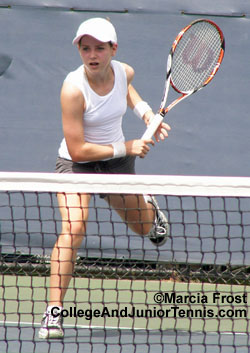 Kyle McPhillips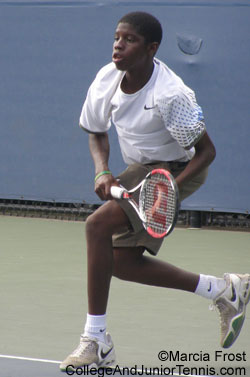 Sekou Coker Bangoura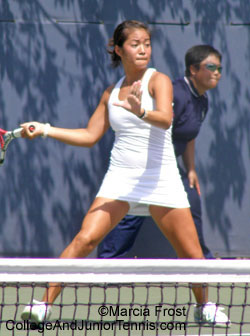 Monica Yajima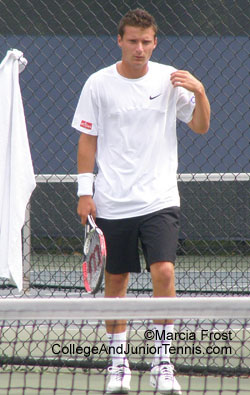 Logan Mackenzie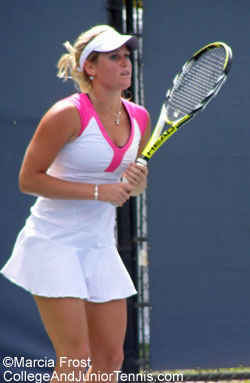 Victoria Brook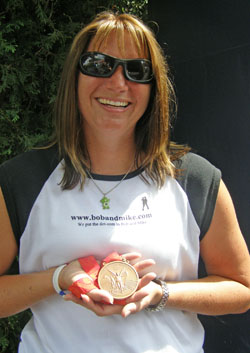 Bryans Bunch founders Amber, here with the Olympic Bronze, Tiffany & Barb of BobAndMike.com are in town to see their boys take home another U.S. Open Doubles Championship.
---

Monthly Guides to
College Tennis Planning
Available in Kindle, Print & EBook
for H.S. Seniors
and H.S. Juniors
---
---
See the Latest
at NIKE
---
---
---
---
Return to:
College And Junior
Tennis Homepage