At The Open
With Marcia Frost...
Saturday, August 30th-
Main Draw, Day Six
Junior Open Qualifying, Day Two
There were lots of close matches as the U.S. Open Junior Qualifying came to a close, while inside the USTA Billie Jean King National Tennis Center, there was doubles everywhere.
The boys were up first and I spent my time going back and forth between the matches with Americans. It looked to be a short round as all four had quick first sets to Matt Kandath, Takanyi Garanga, Nathan Pasha and Devin Britton. But, as the game of tennis often goes, it wasn't that simple. Devin would be the only one to finish in straight sets and even his was not without challenge as the upset over Francis Clay Alcatara (5) wasn't quite the 6-0,6-2 score.
After his quick first 6-2, it was work for Matt Kandath. The New Yorker faced the wrath of Alex LLompart in the second, who took a break for 5-3 and followed with the set. The third was a tight contest of great points that would finally finish in a tiebreaker for Matt.
It was a similar scenario for fellow Americans Nathan Pasha and Harry Fowler with a 6-0 to Nathan and then a close as-the-score-says 6-4 to No. 14 Harry, I really didn't know which way that one would go. It did take a tiebreaker to decide it and the seed prevailed it, 7/4. It was a back and forth affair for Takanyi Garanganga (4) of Zimbabwe and James Seal. Though it looked like "Bo" had it after taking the second, 6-1, it was lost in a 6-2 final set.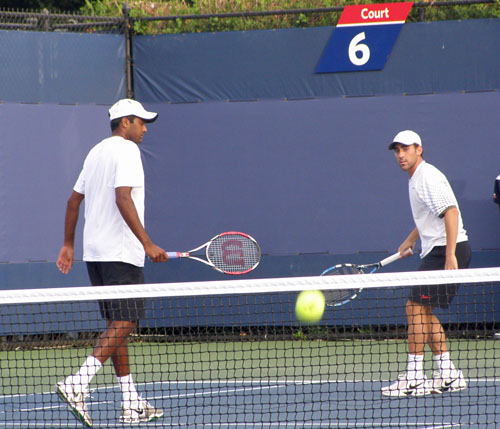 I took a break before watching the girls to check out former college players Rajeev Ram (Illinois) and Bobby Reynolds (Vanderbilt) in doubles. Unfortunately, the Americans couldn't get it back after dropping a tiebreaker and fell to Bruno Soares & Dusan Vemic.
Back in the park, the girls had hit the courts and they were all as determined as the boys to get their place in the main draw. After squeezing by Monika Tumova (8) 5-7 in the first set through some long points and leading the second, American Alexa Guarachi dropped it 7-5 and then was shut out in the third.
The young Beatrice Capra created a second upset, this time over No. 6 Paula Ormaechea with some solid straight set play. Lauren McHale-Allie Will was far from steady, but had some wonderful tennis from two of the country's top talents. It was a struggle through every crowd-pleasing point as Lauren prevailed, 6-1,2-6,6-3.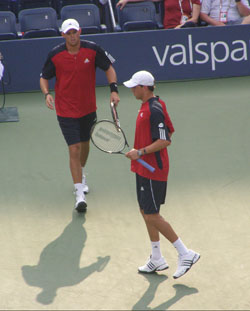 The Brooke Bolender-Bistra Otashliyska match went on forever. It seemed to be slow motion tennis (between points -- the points themselves were actually quick) as third-seeded Bistra won the first 6-4 and Brooke the second 7-5. I missed the Bulgarian taking third set of the match 6-4*.

I went to check out Mike & Bob Bryan, who came one step closer to picking up another U.S. Open Men's Double title. The Brothers Bryan are always fun to watch and it still amazes me (and the crowd on Arthur Ashe Stadium) just how quick and in sync those hands are.

Sunday is the day for me. The main draw of the Junior Championships will be getting underway. Of course, it's also a bit of a challenge getting from court to court since it's one of the busiest days of the tournament, but I think I've had planning of training this week and I'm ready for it!

Until Tomorrow,
Marcia Frost


*My friend and colleague Colette Lewis was at the match until the end, be sure to check out her story at Zoo Tennis.