At The Open With Marcia Frost...
Tuesday, August 31st
Main Draw, Day Two

Turning professional seems like lots of fun and lots of money, but it's not so easy out there. Jessica Kirkland and Scoville Jenkins learned that lesson today -- the hard way.
For Jessica Kirkland it was a chance at the big time. She had recently turned pro after winning a few $25 ITF events and some key matches on the U.S. circuit. Though she had lost first round in the Qualifying last year, her game had been improving and she had reason to be hopeful about her match against Daily Randriantefy.
Jessica was a little nervous and was down 3-0 at the start of the match. By the fourth game she had gained her control and was in the game. Jessica did everything right, committing few errors, but the 27 year old from Madagascar was just on today and there was no way around it. Most of the games were close. A deadly drop shot used often and accurately was what cost the teen the match, 6-4,6-4.
What can you say to a 17 year old who has to make his pro debut on Arthur Ashe Stadium against the No. 2 seed who also happens to be the defending champion? "Go out there and play your heart out." And that's just what Scoville Jenkins did. Early on (when Roddick dismissed the first set in just 16 minutes), everyone knew the kid didn't have a chance, but he kept playing his best and hung in there.
Scoville can be very proud of his match tonight. Despite having the crowd behind him and that famous killer serve (152 mph!!), Andy Roddick didn't dominate every minute of the match. There were some exciting games, including one that went to deuce four times in the final set. When it was over one hour and twelve minutes later, Scoville walked away with four game wins and a lot of experience.
While I was waiting for the late matches of Scoville and Jessica, I caught some former college tennis stars in action. The most exciting of these was definitely former Vanderbilt player Bobby Reynolds. Through huge crowd support and beautiful animation, the former top college player kept it going with Austria's Alexander Peya through long games and incredible points. Every time the crowd thought it was over, Bobby hit another winner. In the end, although he had lost 2-6,6-3,6-3,6-7,6-4, he had a lot to be proud of. Other former collegians on court today were: Illinois' Rajeev Ram, losing 6-3,6-2,3-6,6-4 to Jan Michael Gambill; Stanfords' KJ Hippensteel defeated by Filippo Volantri 6-3,6-4,6-2; UCLA' Abigail Spears losing to Zuzana Kucova, 7-6,6-4; Amy Frasier dropping Duke's Kelly McCain, 6-2,6-2; and the former college player who won today, Paul Goldstein, defeating Takao Suzuki, 7-6,2-6,6-2,6-1.
Scoville Jenkins and Jessica Kirkland both got into the main draw with their USTA Nationals wildcards and prepared to use that to launch their careers. Instead the got early exits, but there is hope in looking forward to the Junior Championships for better luck.
Until Tomorrow,
Marcia Frost
Click on a photo to enlarge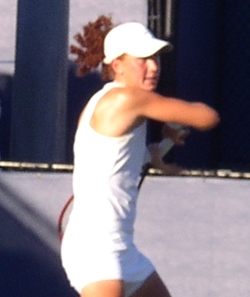 Jessica Kirkland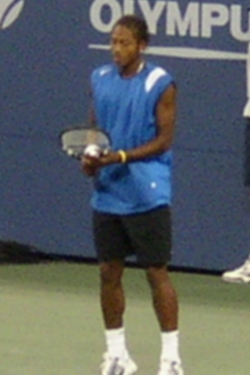 Scoville Jenkins
Andy Roddick
Bobby Reynolds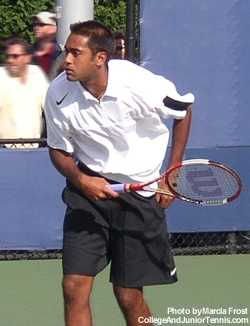 Rajeev Ram
Create an Amazon Wedding Registry
Return to:
College And Junior
Tennis Homepage