At The Open
With Marcia Frost...
Sunday, August 31st-
Junior Open, Day One
(Main Draw, Day Seven)
It was far from the usual start of the U.S. Open Championships as there were lots of very lucky losers and the No. 1 seed fell quickly.
It didn't take long to realize the names on the scoreboards didn't always match the names on the draw. It is rare that a player will drop out of a Grand Slam event without good reason and five I have never seen before. Though there is some question about misplaced paperwork with Andrey Kuznetsov, Jessica Moore and Valeriva Solieva, Cristobal Saavedra-Corvalan and Ilija Vucicd just didn't show.
This left some major changes in the draw as Jessica Moore was the girls No. 4 seed, Andrey Kuznetsov was No. 16 in the boys. So it was a good day for the five lucky losers -- Richard Becker, Alex Llompart, Yannick Reuter, Janina Toljan, Alexa Guarachi-- and some possible changes in the eventual outcome.
The first match of the day I watched was with LL Alex Llompart and 14 year old Christian Harrison. Christian, who has turned professional, missed the Nationals because he was playing the World Junior Finals on the (winning) U.S. team. He was given a wildcard into this event and impressed the crowd with some good shots (even taking a break in the second). He isn't quite there yet with a lot of growing to do, and Alex took it 6-4,6-3.
On the court next door, another professional was going at it with a lot more experience. Madison Brengle, who is unseeded, quickly dismissed tenth-seeded Ciindy Chala, 6-2,6-2.
It was certainly not an easy victory for Jordan Cox, who was kept sharp (and on edge) by Yannick Reuter. There was no southern hospitality from Jordan as he fought off the kid from Belgium with only one break in the first and a 9/7 tiebreaker to take the second. That tiebreaker was taking place at the exact same time as the one on the next court between Jarmere Jenkins and Filip Krajinovic.
It was a different scenario, though Jarmere is also a Georgia native. Despite taking that breaker 7/5, he couldn't take the match much further, losing the second 6-4 and cramping to 4-0 before retiring in the third.
Christina McHale may not have gotten far in the women's draw, but she's poised to do much better in the juniors. It didn't take her very long to take out Misaki Doi, 6-3,6-4, with some of her best game. Sloane Stephens took full advantage of the fact that she didn't have to face No. 4 Jessica Moore by getting right past Janina Toljan, 6-1,6-1. I haven't seen to much of Lauren Davis before, but I liked what I did see before she fell to Croatia's Ajla Tomljanovic in a match that was closer than the 6-3,6-2 score tells.
I've been blaming my fatigue on the lack of rest before the U.S. Open began, but the real culprit is the perfect weather. Never have I made it this far with so much sunshine and not a single rain day off -- and it's wearing me down! Today was no exception as the sun kept shining and the play kept going until the sunset match of Kristie Ahn-Milana Spremo. It seemed the fitting way to end a long, strange day as it took three sets (including a third that had six service breaks) before Kristie would move on.
I did not see the big upset of the day as the number one seed -- and top player in the world -- Arantxa Rus was beat in straight sets by unseeded Russian Viktoria Kamenskaya. It is such an unusual occurrence that I usually don't bother watching the top seeds the first day, but I guess I learned my lesson on that one! We'll see if Monday brings as many surprises as Sunday did at the U.S. Open Junior Championships.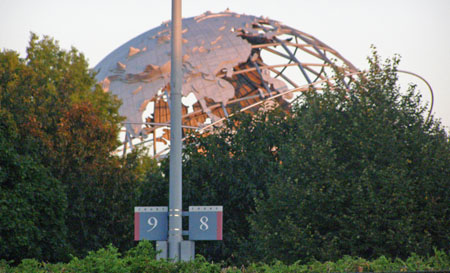 Until Tomorrow,
Marcia Frost

P.S.Colette Lewis from Zoo Tennis is also covering the U.S. Open Junior Championships. Check out her stories & photos.