At The Open With Marcia Frost...
Wednesday, September 1st
Main Draw, Day Three

Deja Vu... It looked more like a junior doubles match I'd seen before than one in the men's doubles at the US Open. Former junior doubles champions Rajeev Ram and Brian Baker teamed up against present junior champions (winners of the USTA National Hardcourts) Vahid Mirzadeh and Phillip Simmonds.
As the USTA High Performance coaches stood by unsure who to cheer for, it was pretty clear what was going to happen. Rajeev, who turned pro after a year of playing at Illinois and winning the NCAA doubles and team championship, and Brian Baker, who has been making waves on the pro circuit, clearly let the experience lead them. While Vahid and Phillip are certainly excellent doubles players (Phillip even won the Australian Open Junior doubles title), experience prevailed as Brian and Rajeev won 6-2,6-3. However, the volleying was top-notch and the games were long.
Wayne Odesnik played his wildcard today against David Sanchez.. The eighteen year old took an early lead by winning the first set, 6-4. The Spainiard was not about to go down so easy and, in what to that point was strictly a serving duel, came to the net and kept the pressure on in the second. He nd finally won that set in a tiebreaker, 9-7. The left-handed teen had difficulty keeping up as it went into the third and lost it 6-2. David served up more winners in the fourth and final to move onto the next round, 6-2. Wayne is quick on his feet and his a great whip to his backhand. He is currently exploring college options.
In other action, Alexandra Mueller and University of Southern California grad Jewel Peterson tried to fight off Laura Granville and Ipek Senoglu as they took the match, 6-2,7-5 (Laura is also playing mixed doubles former Stanford teammate Scott Lipsky.); NCAA doubles champion Lauren Fisher and Cal grad Raquel Kops-Jones lost to Iveta Benesova and Eva Birnerova, 7-6,6-3; and Junior Vania King teamed with Glenn Weiner for an exciting mixed doubles match against Chanda Rubin and Scott Humphries. The latter team squeaked by, 6-2,4-6,7-6(7)
There is still a team of juniors left to play the main draw. USTA National Hardcourt champions Riza Zalameda and Audra Cohen with take to the court tomorrow and I'll be there hoping to catch a repeat of the winning doubles they played in San Jose.
Until Tomorrow,
Marcia Frost
Click on a photo to enlarge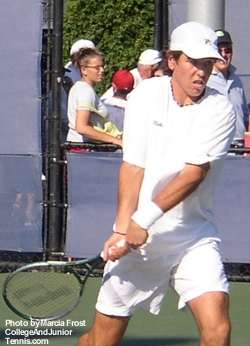 Wayne Odesnik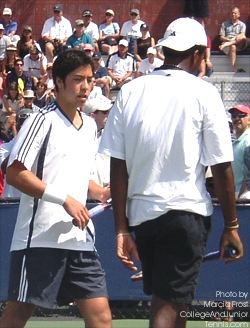 Vahid Mirzadeh &
Phillip Simmonds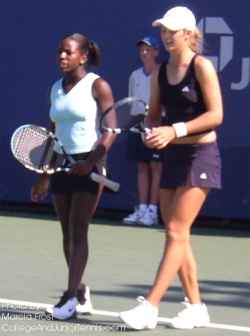 Jewel Peterson &
Alexandra Mueller
Brian Baker & Rajeev Ram
Return to:
College And Junior
Tennis Homepage