At The Open
With Marcia Frost...
Thursday, September 1st
Main Draw, Day Four
It's probably not a name you know. I have to admit it wasn't a name I knew well either, but Kristi Miller has her claim to fame -- she is the only active collegiate player in the U.S. Open main draw. And, she and former University of Miami standout Megan Bradley have advanced to the second round.
Megan Bradley was looking for a wildcard and a partner for the doubles draw and she didn't have to look far to pick Georgia Tech sophomore Kristi Miller. The 19 year old Michigan native had finished her first year in college earning both the ACC and ITA South Region Rookie of the Year awards. She was an All American who finished the season with ranked No. 15 in singles and No. 18 in doubles. According to her coach she and Megan had played the Home Depot event together and then teamed last week for the GHI Bronx Classic, where they made the quarterfinals.
Catlina Castano and Laura Poustio proved to be no match for the duo. Despite some difficulty in holding onto a quick 5-1 lead, Megan and Kristi won the first set, 6-4. In the second they played like they had been together for years and took the match with a solid 6-2. The next round will not be so easy for the duo as they face No. 8 Corina Morariu and Patty Schnyder.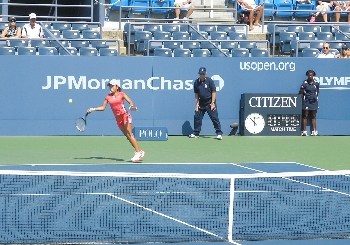 It was not a good day for Vania King and Alexa Glatch -- separately or together. Vania, who had an incredible run in this tournament as she made her way through the qualifying and won her first main draw match, lost on Armstrong Stadium (above) to fifteenth-seeded Natalie Dechy. Though the final score was 6-1,6-1, I saw most of the match and the nearly all the games went to deuce.

It was just the more experienced Natalie who closed them out. At the same time, Alexa just couldn't get it together enough to get past No. 7 Jelena Jankovic. From what I saw in the first set, Alexa was suffering from a severe case of nerves that the huge crowd and star status of Jelena fueled. It was just a short time later that both girls were faced with yet another set of top players. They managed to keep up for awhile in the first set against No. 5 Daniela Hantuchova and Ai Sugiyama even though they went down 7-5, but they dropped the second one quickly without winning a game. I have high expectations of Alexa and Vania for the junior championships.

Another player who must be looking forward to playing more with those his own age is Donald Young. Teamed with Sam Querrey (a frequent opponent, but never before a doubles partner in a draw I've seen), Donald did his best through some great serve and volley to try to keep up with Massimo Bertolini and Filippo Vollandri. The two talented teens, who are at least a foot apart in height, just didn't have the teamwork together. They fell, 6-2,6-4.

The grounds of the National Tennis Center does not seem to be the place to have a birthday this week (someday I have to do a story on just why it seems that half the players here are Virgos!). Today it was Mykytas Kryvonos who wanted to forget it was the day he was born. The local 19 year old and the Floridian (who is about to turn 18) had received a wildcard into the doubles draw after winning Kalamazoo. They just couldn't get that rhythm back today. No matter how they tried, Jose Acasuso and Sebastian Prieto came back better. In the end they seemed to give in to the 6-4,6-4 loss.

While I will continue to keep up with the progress of Megan Bradley and Kristi Miller, tomorrow my focus will shift to the junior championships as the qualifying begins with the main draw starting on Sunday. I am looking forward to seeing some familiar talent along with some new faces.

Until Tomorrow,
Marcia Frost