At The Open
With Marcia Frost...
Monday, September 1st-
Junior Open, Day Two
(Main Draw, Day Eight)
Another day, another major upset as the boys draw is now missing number two and those remaining were fighting hard to keep their place.
Yes, the sun is still shining here for an unbelievable 14th day. And the tough competition is still here also, with long matches and tiebreakers everywhere.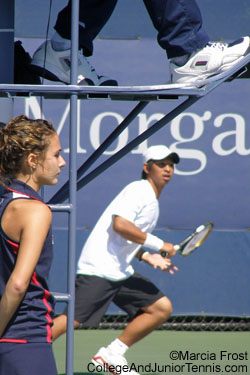 Qualifier Lauren McHale won't have to delay her starting date at Princeton University as her run at the U.S. Open ended today. The New Jersey native came back after a set down and a 3-0 deficit in the second to get back on serve and tied at 3-3, but Heather Watson of Great Britain was on and had it at the third match point, 6-2,6-4. On the court next door, it was Floridian Robert Van Overbeek with a 4-0 lead in the second set (he lost the first, 6-2) before Christopher Rungkat was re-energized in a medical timeout and came back to win the next six out of seven games for 7-5.
Harry Fowler of Texas kept Alessandro Gianessi on his toes throughout a tight match. I arrived after the Italian had taken the first, 6-4, and Harry was just about to grab the second in a breaker. He seemed to have the momentum going and it went all the way down to another tiebreaker before he fell 7/3. It was also quite a contest between Hiroyasu Ehara of Japan and lucky loser James "Bo" Seal.. I have to say it was one of the best performances I've seen from Bo, but Hiroyasu was just too good and eventually took the match, 6-2,7-5.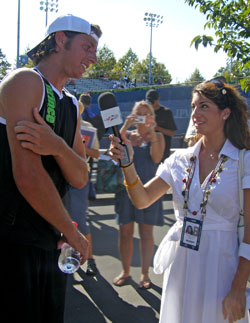 It was a wonderful performance from qualifier Matt Kandath that got him out of 3-0 down to start and into a 7-5,-6-4 win over Giacomo Miccini, however, the match of the day was certainly the upset of Devin Britton -- also a qualifier -- over the second-seeded Bernard Tomic of Australia. Many had picked Bernard to win this event and it was an incredible match by the American, full of deuces, break points and all things exciting, that led him to a 3-6,6-3,6-3 win.

There were no real problems for Bradley Klahn (13), Elena Bogdan (5) or Ksenia Lykina (8), who advanced easily, while the girls' No. 9 Jessy Rompies lost to Marta Sirotkina, 7-6,6-2.

For some reason I can not understand, the main draw still has some players in round one so there will be more first timers up tomorrow -- and maybe some more upsets.

Until Tomorrow,
Marcia Frost

P.S.Colette Lewis from Zoo Tennis is also covering the U.S. Open Junior Championships. Check out her stories & photos.



click on a photo to enlarge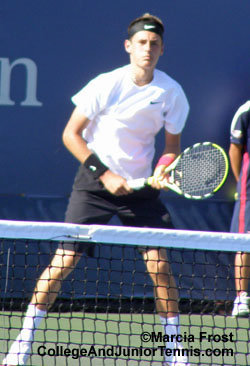 Bernard Tomic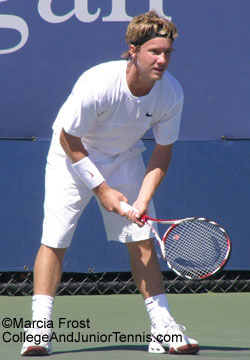 James Seal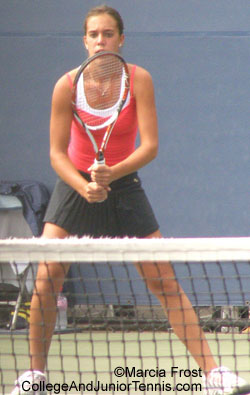 Beatrice Capra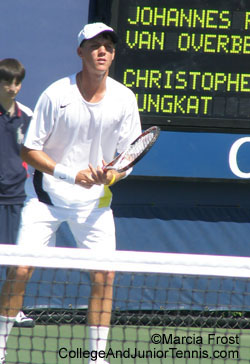 Robert Van Overbeek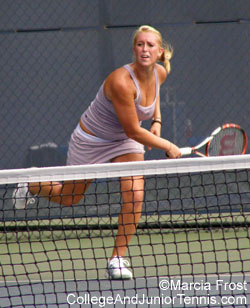 v
Alexa Guarachi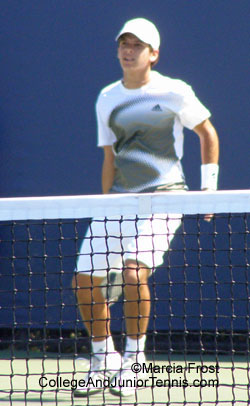 Harry Fowler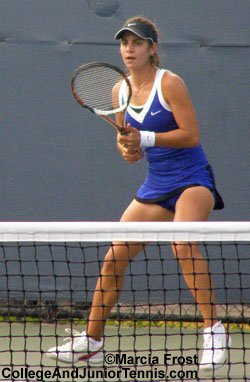 Lauren McHale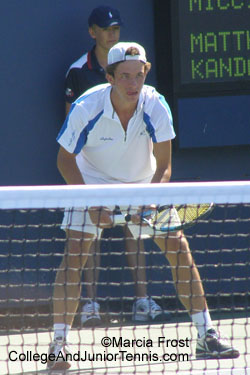 Giacomo Miccini
---

Monthly Guides to
College Tennis Planning
Available in Kindle, Print & EBook
for H.S. Seniors
and H.S. Juniors
---
---
See the Latest
at NIKE
---
---



\

---
Return to:
College And Junior
Tennis Homepage