At The Open With Marcia Frost...

Wednesday, September 1st-
Men's & Women's Main Draw, Day Three
It was a wild Wednesday full of surprises, but not all good ones for the college and junior tennis world.

I'm not going to spend a lot of time writing about the Ryan Harrison match, not because it isn't deserving of it, but because it's everywhere and I prefer to tell the stories that aren't. I did see enough of it to tell you Ryan's 6-3,6-7(4),6-3,6-4 win over 15th seeded Ivan Ljubicic was well earned and proved his talent.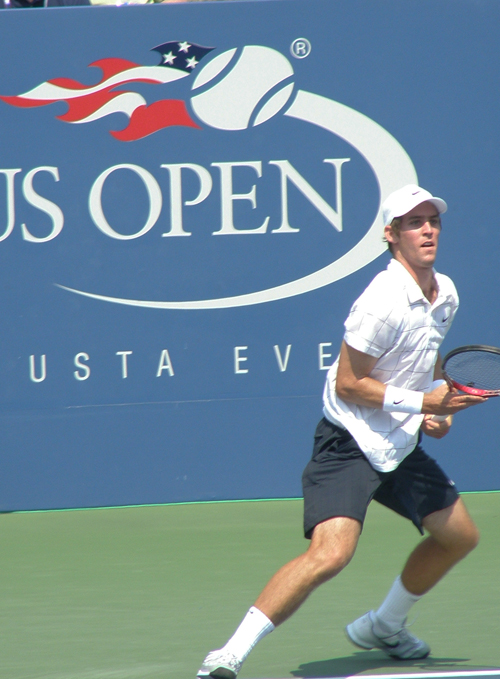 I did watch most of Bradley Klahn's match with No. 20 Sam Querrey and spoke with the NCAA champion after the match. It was quite a display of great tennis that had lots of ups and downs for both players. The Stanford sophomore came alive in the second set while Sam was fading. It really looked like he could keep it up, as it was been a set and a half before the seed could finish a quick service game. Things changed, though, at the end of that set as Bradley began to feel the toll on his body. There were some good points before Sam Querrey showed his experience and took it, 6-3,4-6,7-5,6-4
As Bradley Klahn explained after the match when I asked him about the difference between playing two out of three sets in college and this three out of five match -- something he had never done before -- "Two out of three is a sprint, three out of five is a race... The game is so much more physical (in the pros). These guys are so fit." Ironically, Bradley's preparation for this match had been at the USTA Training Center in Carson, California, practicing with Sam Querrey! He had never imagined he would have to play his friend and hitting partner in the first round.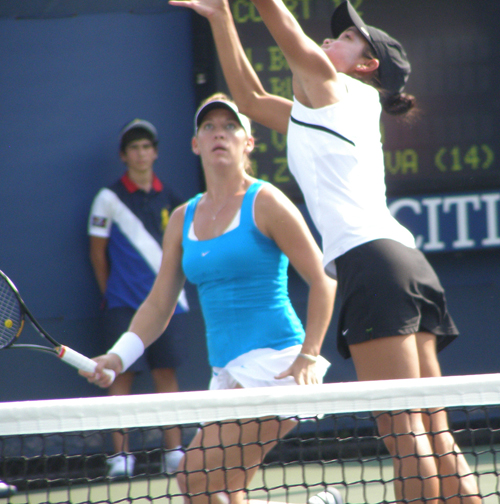 Two other NCAA champions from Stanford were also on the court on Wednesday. Hilary Barte & Lindsay Burdette impressed the crowd with some good doubles, but it was not enough to get past 14th seeded Elena Vesnina & Vera Zvonareva, 7-5,6-3. Kalamazoo winners Sekou Coker Bangoura & Nathan Pasha also fell, to Michael Kohlmann & Jarkko Nieminen, 6-3,6-1.
I've been watching Jack Sock ever since he matched Al Parker's record of winning every national title in singles and doubles in the 12 and unders. He has managed to pick up Gold Balls in every age division since then. This summer he took the most important, the Boy's 18 National Championship, which comes with a wildcard into the US Open Men's Singles. Jack was excited about the opportunity -- maybe a bit too excited.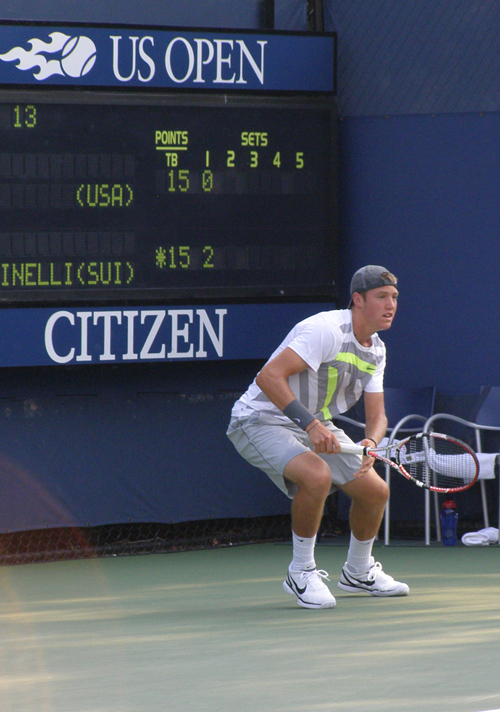 There was no doubt that nerves got the best of Jack Sock in his match against Marco Chiudinelli of Switzerland. Both had incredible forehands and the ball kept flying faster than most could watch. Jack also showed off some of his net work and even brought in enough confidence at two sets down to take a set, but he wasn't steady enough to hold it all the way, falling 1-6,4-6,6-1,1-6.
Thursday's is still looking hot on and off the court, with Beatrice Capra facing No. 18 Aravane Rezal and lots of doubles to watch, including Lauren Herring & Nicole Gibbs, Nicole Gibbs & Sam Querrey and Eric Butorac & Jean Julian Rojer. Ryan Harrison will be doing real double-duty as he team with Robert Kendrick in men's doubles and Melanie Oudin for mixed. Between matches, I'm going to try to head up to the new Cosmopolitan Las Vegas Overlook, where you can cool of with a wet towel and enjoy the shade. Food and drinks are available for sale, but the space is free of charge and open to everyone.
Until Tomorrow
Marcia Frost




P.S. Former Illini and NCAA doubles champion Kevin Anderson, who is still in main draw singles, was also on the creating end of upsets on Wednesday. You can read all about it at Big Ten Tennis.
Inexpensive Grocery Delivery
At Instacart
<

Monthly Guides to
College Tennis Planning
Available in Kindle, Print & EBook
for H.S. Seniors
and H.S. Juniors