At The Open With Marcia Frost...

Thursday, September 2nd-
Men's & Women's Main Draw, Day Four
The 2010 US Open has been filled with upsets, culminating with Andy Roddick's on Wednesday night, continuing through the discovery of fans of another American sweetheart on Thursday.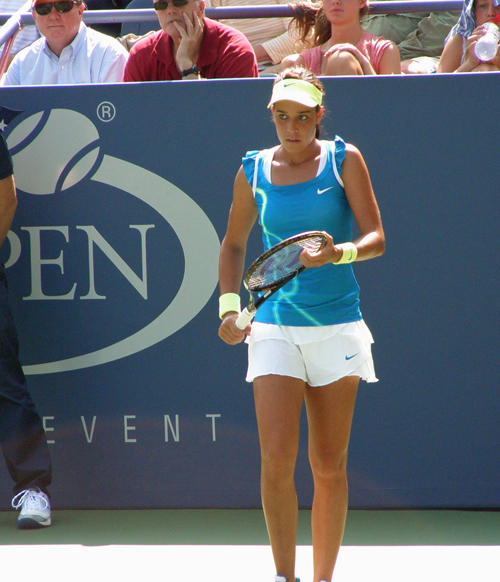 Eighteen year old Beatrice Capra is very proud of the fact that she "earned her way into the tournament" by winning the first US Open wildcard tournament. She feels that had a lot to do with her results here, quite a difference from the first round of qualifying events she lost in after being given wildcards into professional events in the past. Whatever the reason, the Maryland teen had her game on and was confident ever moment during her win over No. 18 Arvane Rezai.
The match began with an empty Grandstand and was full by the conclusion. It was Arvane who had an early break in the first and held it until 4-3. Beatrice got it back to the roar of the crowd, but lost it again at 5-5. She held tight to break once again for the first set at 7-5. Despite a quick second set loss at 6-2, there was no pause in the confidence of Beatrice Capra. She broke at the very first (long) game and carried the momentum on as the two traded breaks until a screaming crowd led her to 5-3 and then a 6-3 set win.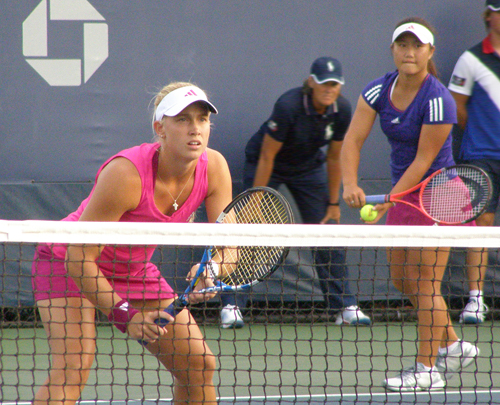 Beatrice Capra insisted during the match press conference that she was still very much expecting to go college (most likely Duke) after a year off. College, specifically the University of Georgia, is also where NCAA champion Chelsey Gullickson is going to probably return after a fall of playing pro circuit events, but first she has more US Open matches to get through. She and sister Chelsey moved on to the second round of doubles today with a straight sets win over Sara Errani & Roberta Vinci. Also in doubles, USTA Nationals winners Lauren Herring & Grace Min (above), who have been playing together since the 12s, lost a match to Dominika Cibulkova & Anastasia Pavlyuchenkova that was much closer in points than the 6-1,6-4 score showed.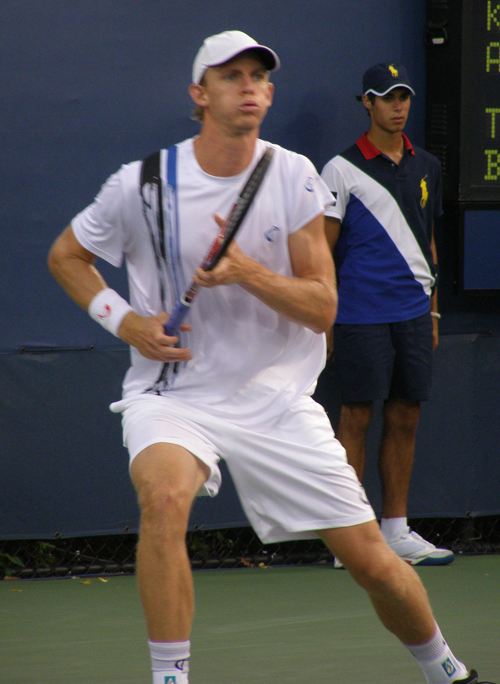 Ryan Harrison continues his winning streak in three events, picking up a men's doubles win with former college player Robert Kendrick, and a mixed doubles victory with Melanie Oudin. Also in mixed doubles, former NCAA titlests in that event, Eric Butorac (Gustavus Adolphus) and Raquel Kops-Jones (California) lost a heartbreaker to sixth-seeded Elena Vesnina & Andy Ram, 4-6,7-6(6),1-0(11/9). I'm not sure why this is the only event with a match tiebreaker in lieu of a third set, but I'm betting the former college standouts wish it wasn't.
Beatrice Capra was far from the only one creating an upset on Thursday. Former Illini (and another NCAA doubles champion) Kevin Anderson (right) squeezed through a five set, two tiebreaker win over No. 6 Thomas Bellucci. The details are at the Big Ten Tennis website.
Friday marks the start of the Qualifying event for the US Open Junior Championships. Matches will take place on the practice courts just outside the USTA Billie Jean King National Tennis Center. There is no charge to watch, however, the remnants of Hurricane Earl will probably pass by in the afternoon so play is more likely in the morning and early afternoon than later in the day.

Monthly Guides to
College Tennis Planning
Available in Kindle, Print & EBook
for H.S. Seniors
and H.S. Juniors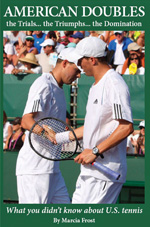 Return to:
College And Junior Tennis