At The Open With Marcia Frost...
Friday, September 3rd
Main Draw, Day Four

The final college and junior players have left the US Open men's and women's championships. And they didn't go out without a fight.
After receiving a walkover in the first round, Audra Cohen and Riza Zalameda faced Jennifer Hopkins and Mashona Washington in their second round doubles match. The court had been busy all day with three and five-setters so the teens didn't get on until after seven pm. At first, there was no stopping them as they displayed the strong serve and volley that got them the USTA National Hardcourts title. They took the first set, 6-3, with no problem.
The second set was a whole different story. Jennifer and Mashona were not going down easy and they didn't even let a game get by them until they were up 3-0. Though the points were long and the crowd enjoyed the excitement, Riza and Audra couldn't maintain the key points. They lost the next two sets 6-1,6-2.
While the adults continued to play throughout the grounds and in the stadiums, the juniors got stated in the Park. The US Open Junior Qualifying has come a long way since the first event in 2001. What was once a hard to fill draw of many local players is now a top-level ITF event with the number one seeds that are 56 (boys) and 66 (girls) in the world.
With no avoidance included in the draw it was Americans battling Americans and Canadians fighting their hometown opponents. It was also an excellent opportunity for college coaches and spectators to see some the world's best teens in the park right outside the National Tennis Center (and free of charge). Among those playing was the USTA National Girls 16 Claycourt and Hardcourt winner Catherine Newman, who was suprisingly not given a wildcard into the main junior draw. Catherine couldn't get past the sixth seeded Magdalena Kiszczynska of Poland. There were few other surprises as the top seeds moved along in the girls with the exception of Vania King's upset of No. 4 Mirna Marinovic.
The boys had a major upset when American Marc Spicijaric took the match from the top-seeded Ryan Sweeting of the Bahamas in three sets. In one of the American battles, Michael Shabaz outhit No. 14 Michael Samara in a close one. Also upset was fourth-seeded Michael Johnson, who lost to Navdeep Singh.
Tomorrow the US Open Junior Qualifying will conclude with the final round played. Only 16 players will emerge to the US Open Junior Singles draws and get to play America's Grand Slam.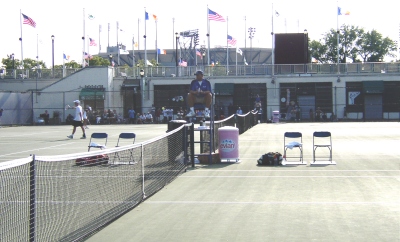 Until Tomorrow,
Marcia Frost