At The Open With Marcia Frost...
Saturday, September 4th
Junior Qualifying, Day Two

These are the times we live in...
Security issues overshadowed the final day of the US Open Junior Qualifying. Despite some inconveniences in the park -- bag checks, roped off areas around the courts -- the event finished and not with out some surprises of its own.
Among the girls top seeds, all advanced without a problem with the exception of fifth-seeded Karin Knapp. She was eliminated by No. 15 Tamira Paszek in a close three-setter. Another long match (just under three hours) was between Vania King and Erika Takao. Vania, who had upset fourth-seeded Mirna Marinovic yesterday, also got past Erika for her place in the main draw.
The boys draw was far from an easy one as the battles raged on. The biggest upset of the day was by Erik Chvojka, who needed three sets to dismiss third-seeded Antonio Veic. Navdeep Singh created a second upset (he defeated No. 4 Michael Johnson in the first round) by moving past No. 11 Faris Khatib. All of the other top seeds advanced.
Tomorrow is day one of the US Open Junior Championships. It will be a long one as the world's best 18 and under players go after the trophy. For Gael Monfils this can mean a Grand Slam which has been so elusive to players since Stefan Edberg did it. For Brendan Evans and Scott Oudsema it could mean three out of four of the majors this year. For all of the players, it is a chance to be counted among the best there ever was.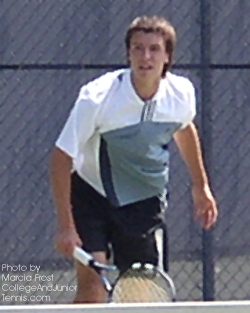 Evgeniy Kirllov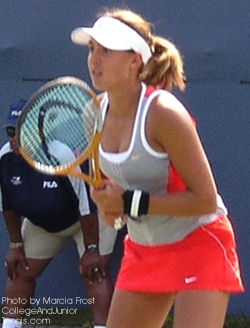 Tamira Paszek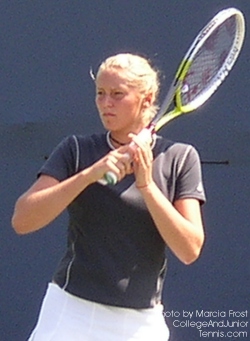 Olga Poutchkova
Until Tomorrow,
Marcia Frost