At The Open With Marcia Frost...

Saturday, September 4th-
Junior Qualifying, Day Two
Men's & Women's Main Draw, Day Six
The weather was perfect today, partly sunny and not too hot. Only the wind was a bit of a challenge as 16 juniors battled their way to the main draw of the US Open Junior Championships.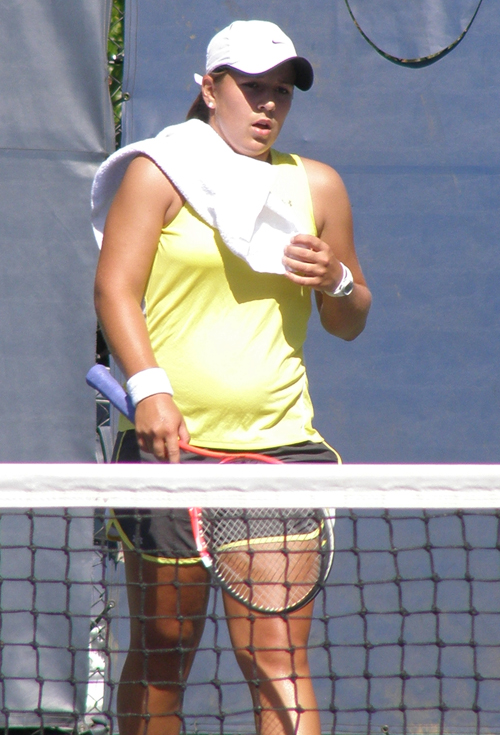 Just before Maria Sharapova ended the Cinderalla run of Beatrice Capra, Sabina Sharipova took American Blair Shankle (right) out of the Junior Championships. I saw a bit of the match, and Blair put up quite a fight before falling, 7-6,6-4. Julia Elbaba pulled off her second upset in as many days as she earned her place in the main draw with a 6-4,6-3 win over No. 9 Gaia Sanesi of Italy. Fellow Americans Brooke Austin, Lauren Herring, Gabrielle Andrews and Robin Anderson battled each other with Brooke Austin and Robin Anderson coming out on top. Joining them in the main draw will by one more player from the U.S., Chanelle Van Nguyen, Riza Ozaki and Miyu Kato of Japan and Nigina Abduraimova of Uzbekistan.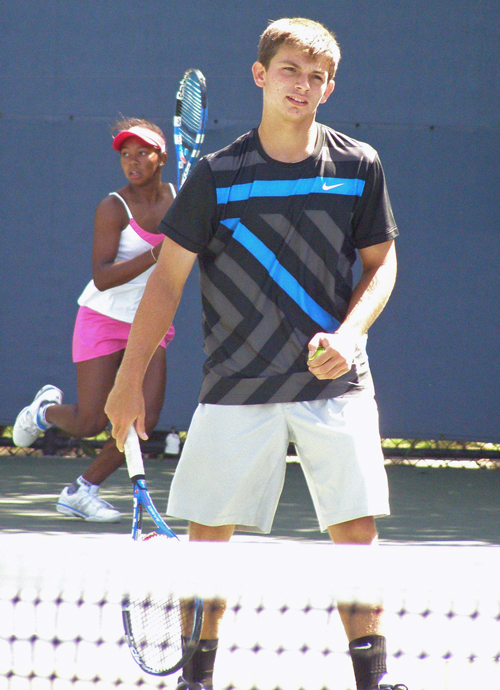 While the girls were securing their place in the main draw, I followed the crowd cheering on New Yorker Alex Petrone. It was a tough match against Ireland's Sam Barry, the third seed. I arrived just after the first set was one by Sam in a tiebreaker and was told that Alex had been up 5-2 in the set. Though the second set was a 6-1 finish by the Irishman, it doesn't begin to tell the story of the great points, long games, and battle that Alex never stopped fighting.
There were only three American boys surviving the Qualifying for the junior singles: Michael Zu, who battled compatriot Spencer Papa in a close three sets; Alexios Halebian; and Mackenzie McDonald. Also earning spots in the draw were Bruno Semenzato of Brazil, Diego Galeano of Paraguay, Karue Sell of Brazil, and Julien Cagnina of Belgium.
While the junior were playing in the park, there was quite a bit going on inside with past and present college and junior players. It was a tough day for Ryan Harrison as he first lost in men's doubles (with former college player Robert Kendrick) and then dropped a tight mixed doubles match (with Melanie Oudin) in a third set match tiebreaker. Georgia Bulldog Carly Gullickson and sister Chelsey were beaten by the fourth seeds in women's doubles and doubles veterans Bethanie Mattek-Sands and Daniel Nestor eliminated the team of Beatrice Capra and Jack Sock. Former Illini Kevin Anderson and Rajeev Ram also fell. (Read the details at Big Ten Tennis.)
Sunday is day one of the US Open Junior Championships so I'll have no shortage of players to watch -- and write about!

Monthly Guides to
College Tennis Planning
Available in Kindle, Print & EBook
for H.S. Seniors
and H.S. Juniors

Return to:
College And Junior Tennis