At The Open With Marcia Frost...
Sunday, September 5th
Junior Championships, Day One

There was no hometown advantage today as the three New Yorkers in the draw all lost their place in the draw.
The first to go was Marcus Fugate of Fairport and he didn't go without quite a fight. Sixteen year old Marcus was a bit nervous and the more experienced Miles Kasari of Great Britain took advantage to the tune of a 6-3 first set win. In the second set there were some great points, but Marcus had a powerful serve that made the difference and gave him a 6-4 win. Unfortunately, despite a visit from the trainer, Marcus couldn't recover from a strain in the final set and fell 6-3.
Mykyta Kryvonos, who trains at the National Tennis Center, was well matched against University of Illinois sophomore GD Jones. Throughout the first two sets there were great points and too close to call games. GD's lightening fast serve and Mykyta's unusual (but highly effective) backhand kept both players just a break apart with Mykyta at 6-4 in the first and GD with the same in the second. The third set was a different story, though. Mykyta just couldn't get it together after an initial break and GD came in and took it all with a 6-0 set.
The final junior match of the day was between local sixteen year old Elizabeth Kobak, who had recently placed fourth at the USTA National Hardcourts, and seventh-seeded Viktoria Azarenko. Even though Elizabeth had many supporters in the audience it took her a little while to feel comfortable at the Grand Slam. Once she did, however, she had no problem keeping up with the Belarus teen (a Wimbledon winner in doubles and semifinalist in singles). Throughout the match there were great points and long games. Elizabeth's volleys were beautiful and she kept Viktoria on edge, but she still managed to come back with even better shots. At one point Elizabeth was up 3-1 in the second, and she held a match point off at 5-4 to win the game, but the seeding held and Elizabeth fell, 6-3,7-5.
In other matches today American wildcards Sam Querrey and Jamie Hunt faced each other with Sam taking it 6-3,6-4; Alex Kuznetsov struggled in the first set as he went to a tiebreaker against Robin Haase, but had no problem blanking the Netherlands teen in the second; Fifth-seeded Brendan Evans quickly dismissed fellow American Dennis Lajola, 6-1,6-3, despite the Hawaain's ace-winning serve while his doubles partner, Scott Oudsema, had a little tougher time a few courts down against Sergei Bubka before winning, 4-6,6-3,6-2; and soon to be fifteen year old Alexa Glatch had no problem with Agnes Szatmari, 6-3,6-4, while just fifteen year old Donald Young couldn't advance past Sergiy Stakhovsky, 6-3,1-6,7-6(6).
The only upset of the day was Jamie Baker of Great Britain's 6-3,7-5 win over fourteenth-seeded Igor Sijsling of the Netherlands, but it's still early in the tournament and I'm sure we haven't seen the last upset.
GD Jones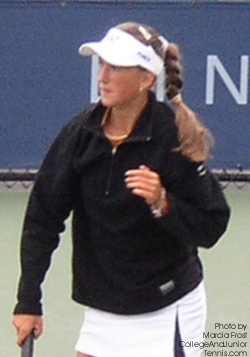 Viktoria Azarenka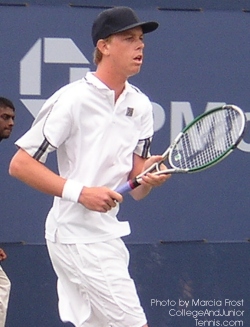 Sam Querrey
Until Tomorrow,
Marcia Frost
Click on a photo to enlarge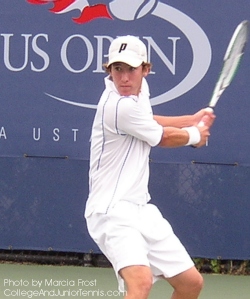 Jamie Hunt
Dennis Lajola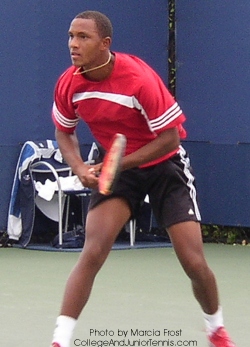 Marcus Fugate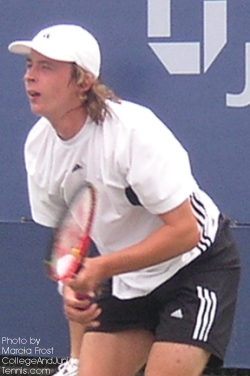 Mykyta Kryvanos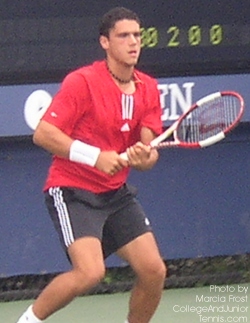 Miles Kasari
Agnes Szatmari
Create an Amazon Wedding Registry
Return to:
College And Junior
Tennis Homepage