At The Open With Marcia Frost...

Sunday, September 5th-
Junior Championships, Day One
There didn't seem to be much of a hometown advantage on Sunday as Americans fell in day one of the US Open Junior Championships.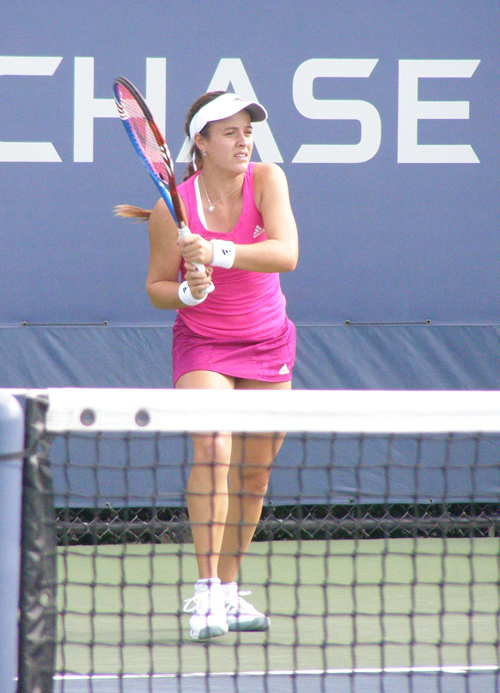 Among the girls, there were quite a few from the United States who lost in the first round : Lauren Davis, to top-seeded Daria Garilova of Russia; Grace Min, to Veronica Cepede Royg of Paraguay; Nicole Gibbs, to Irina Khromacheva of Russia; Madison Keys, to Anastasiya Vasylyeva of the Ukraine; and Ester Goldfeld, to Emi Mutaguchi of Japan.
The lone upset in the girls draw was by American Sasha Vickery. In fact, it was the wildcards who did best in the girls' singles draw. Sasha wildcard took out China's Saisai Zheng,6-2,6-3, while other wildcard from the U.S. who made it to round two were Caroline Price, Kyle McPhillips and Ellen Tsay,
It was a mixed bag for the American boys in the first round of the boys' singles. Michael Redlicki, the USTA Boys' 16 Claycourt and Nationals winner, lost in straight sets to Croatia's Mate Delic. Bjorn Fratangelo, winner of the Boys' 18 Claycourts, fell to Jozef Kovalik of the Slovak Republic. Wildcard Mitchell Krueger also dropped his match, to third-seeded Tiago Fernandez of Brazil.
There was one American boy who not only advanced on day one, but he created an upset. University of Michigan sophomore Evan King defeated the sixth seed, Australia's Jason Kubler, 7-5,6-1. Additional boys from the U.S. winning in the first round were 10th-seeded Dennis Kudla, 16th-seeded Mitchell Frank, and wildcard Daniel Kosakowski,
The doubles get started on Monday so there will be lots of action for the juniors, with clear and sunny weather continuing.
Until Tomorrow
Marcia Frost

Note: Due to a cornial abrasion from Clear Care Contact Solution (stay away from this stuff!), I didn't make it to the Open on Sunday. For full details on the matches, check out Colette Lewis' report at Zoo Tennis.


Monthly Guides to
College Tennis Planning
Available in Kindle, Print & EBook
for H.S. Seniors
and H.S. Juniors
---

---
Return to:
College And Junior Tennis