At The Open With Marcia Frost...
Monday, September 6th
Junior Championships, Day Two

The second day of the US Open Junior Championships brought few surprises, but that doesn't mean there wasn't a lot of excitement.
Top-seeded Katarina Bondarenko battled fatigue, pain and the determination of Krysty Marcio to get through today's match. It was clear that it had been a long summer for both players as Katarina wore a bandage on her calve and Krysty had one on her thigh. Despite on-the-line winners from the No. 1 seed, she had trouble with her serve and left openings for the talented Krysty. Amazingly Krysty's 100 mph serves and endless dives (and splits) to get the Ukrainian's balls were not enough. The injured Katarina squeaked by 6-4,6-4.
There seemed to be nothing exciting about the match between Vahid Mirzadeh and Antal Van Der Duim. The points were short and Vahid didn't seem to put up much of a fight before dropping the first set, 6-4. In the second set, however, Vahid came alive and fought it to a tiebreaker win. With the momentum continuing, he shot back every point and had no problem with the final set at 6-1.
Lindsay Burdette managed to hang tough against Qualifier Caroline Wozniacki through a tight first set and tiebreaker. Caroline came back to capture the second, 6-2, but she could not hold off Lindsay in the third as she moved to the second round, 6-2.
The two American girls on Court 8, Vania King and Yasmin Schnack, started as an even match with the lead given to sixteen year old Yasmin, who had more ITF experience and ranking. Though Vania had been given a wildcard into the Women's Singles Qualifying, she was forced to Qualify for the Junior singles and made her way through that draw. She proved able to handle even more pressure when she eliminated Yasmin, 6-3,6-2. Other Americans advancing today included Timothy Neilly, who downed Steven Moneke, 6-7(6),7-5,6-2 and Phillip Simmonds, who got by Navdeep Singh, 6-4,7-5.
The No. 1 boy, who is going for the first Grand Slam since Stefan Edberg did it in 1983, was tested today by Remko de Rijke in a long three-setter, but the only upset of the day was Mihaela Buzarenscu over No. 11 Veronika Chvojkova, 6-4,6-4.
Thanks to two hurricanes churning up the coast, the forecast for the next few days is ominous. Unfortunately, there are still matches to be played in the first round of Junior Singles. We will all be holding our breath that there is no repeat of last year's rain soaked Championships and the draws are completed -- on time and at the USTA National Tennis Center.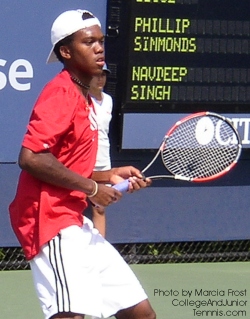 Phillip Simmonds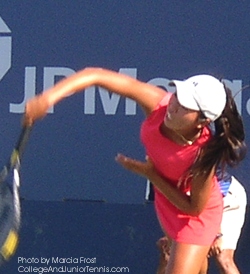 Vania King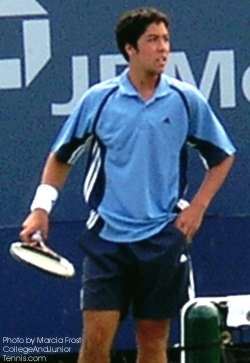 Vahid Mirzadeh
Until Tomorrow,
Marcia Frost
Click on a photo to enlarge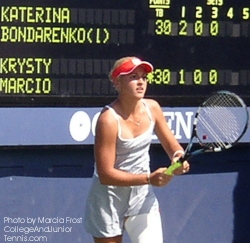 Krysty Marcio
Anta Van Der Duim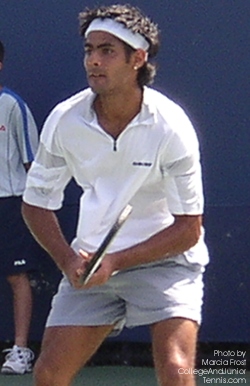 Navdeep Singh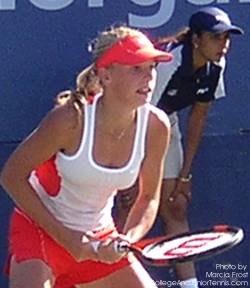 Caroline Wozniaki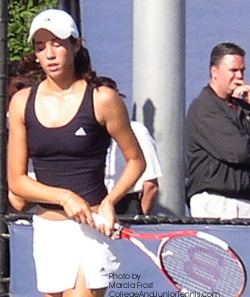 Yasmin Schnack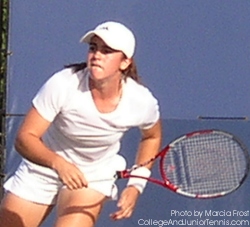 Mary Gambale
Return to:
College And Junior
Tennis Homepage