At The Open With Marcia Frost...

Monday, September 6th-
Junior Championships, Day Two
With round one of the US Open Junior Championships complete, it was a bit better day for Americans than it was previously.

I often gravitate toward the Eastern players because I got to know so many of them while I lived here in New York, ran tournaments at the Port Washington Tennis Academy and then again saw them at junior tournaments. I usually try, however, not to watch the same players over and over. It has been difficult not to watch Julia Elbaba repeatedly. It's hard to believe when you look at this petite 16 year old that she can ace and volley players off the court, but she can. Unfortunately, the qualifier's opponent, Eri Hozumi of Japan, seemed to have that same level of determination.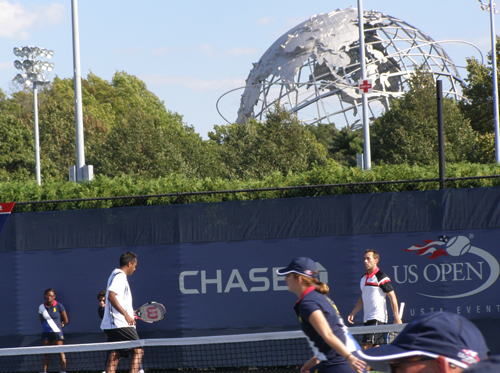 It was really a superb match of junior girls' singles on Court 13 as traded winners. The first set belonged to Eri at 6-3 by a matter of a few points, as almost every game produced a sequence of deuces. Not at all phased by the fact that she lost the first set, Julia Elbaba came out for the second with everything she had. She got the score up to 5-2, before Eri Hozumi stepped up her game even more with shouts of "C'mon" at almost every point. She took the next four games and eventually the tiebreaker.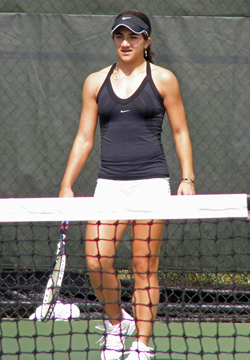 The above match was far from the only great one on the courts of the National Tennis Center. Just before I arrived, two qualifiers made it through another round. Robin Anderson upset An-Sophie Mestach of Belgium, the 11th seed. I did get to see some of 14 year old Brooke Austin, a winner over Sabina Sharipova, surprising the crowd with a fairly quick win and Chanelle Van Nguyen overcoming a challenge in the second set for a tiebreak win.
On the boys side, Alexander Collarini, who I do not know much of, but understand that he has just begun playing as an American and has ATP experience, took out the No. 1 seed in a three-setter that garnered quite an audience. Raymond Sarmiento pulled out a 6-4 second set after losing the first to Brazilian Karue Sell, then began to cramp mid-point at 0-1 30-30. A trainer was called to help him move from the corner of the court, but he couldn't get back to 100% and lost 6-3 in the final set.
Qualifier Dennis Novikov looked good as he extended his run another round with a straight set win over Julien Cagnina. I was also happy to see Jack Sock looking much more confident and less nervous than he did in the main draw.;
Doubles didn't go so well for American boys, with only Mitchell Krueger & Dane Webb advancing so far. The girls did better, with wins by five Americans, inlcuding Sloane Stephens, who with Timea Babos of Hungary has already won two Junior Grand Slam events this year, moving on to the second round.
There will be plenty of junior action on Tuesday and it looks like the weather will continue to be picture-perfect. I'm hoping to sneak away at some point to see some favs -- Former Stanford players and current doubles record holders Bob and Mike Bryan and baseball Hall of Famer Hank Aaron, who will be honored at the USTA's Breaking the Barriers event.
Until Tomorrow
Marcia Frost

For more on the junior matches at the US Open, check out Colette Lewis' Zoo Tennis.

Girls Singles Draw Girls Doubles Draw
Boys Singles Draw Boys Doubles Draw