At The Open
With Marcia Frost...
Wednesday, September 7th
Junior Championships, Day Four

Here we are in day four of the U.S. Open Junior Championships and -- for the first time in years -- there has been no rain with none predicted. I have lived in New York all of my life and don't ever remember three weeks of 80 degree sunshine in a row, but I guess the USTA was due for a smooth running tournament. It's too bad you can't forecast the winners the way you do the weather.
Americans continued to dominate this year's U.S. Open and Stanford could claim a number of them today. In the men's doubles it was Bob & Mike Bryan (1997-98) over Paul Goldstein (1995-98) & Jim Thomas (1993-96). In the boys singles it was incoming freshman Matt Bruch who made waves. The qualifier continued into the round of 16 after a great match with India's Rupesh Roy.
There couldn't be two more different players on the court than Matt Bruch and Rupert Roy. Rupert is small and fast with great placement, while Matt was taller with a power serve and volley. They traded breaks and domination of the match as Rupert took the first set 6-3 and then matt captured the second 6-4. The third held stead through the first five games, but Matt really stepped up his game, carefully playing the offense, to a 6-3 win.
Matt Bruch and partner Holden Seguso lost in doubles to third-seeded Petar Jelenic and Evgeniy Kirilov in a tough three setter (2-6-6-4,6-4), but Holden stayed alive in singles, today eliminating Slovakia's Lukas Lacko. Also having a half good day was Michael Shabaz, who looked like he was going to defeated Kenya's Christian Vitulli as he commanded the first set to 6-4. In the second Christian put on the pressure as he was in complete control. The third was off serve for most of it and Christian just pulled it out, 7-5. The good half of Michael's day came when he and partner Jesse Levine won doubles over Phillip Bester and Peter Polansky.
The current No. 1 player, Donald Young, had two scares today. First he lost a set to David Navarrete of Venezuela before winning the match, 4-6,6-2,6-0, then he and Alex Clayton had a close doubles match. They took that one from Andrew Kennaugh and Jochen Schottler, 7-6(2),5-7,6-4. It was a similar day for Ryan Sweeting, with three setters in singles (over Andrea Arnaboldi) and doubles (with Timothy Neilly).
There was only one upset in the girls singles draw and it was a big one. Eighth seeded Mary Gambale, winner of the Girls' 18 Nationals, was eliminated by Canada's Sharon Fichman, 0-6,7-5,6-4. It seemed that Sharon had learned from the first set and took command of the others. By the end she was leading Mary around the court and was pumped to win.
It was an easy day for Victoria Azarenka and Marina Erakovic as they each had quick singles matches -- Victoria over Katerina Kramperova, 6-1,6-2; Marina past Gail Brodsky, 6-1,6-1 -- and then teamed to defeated Marrit Boonstra and Renee Reinhard, 6-1,6-1. There also wasn't any struggling today for Vania King, as she beat fellow American Madison Brengle, 6-1,6-0, and then teamed with Alexa Glatch over Ashley Weinhold and Kristen McVitty in an all U.S. doubles match, 6-2,6-4.
Tomorrow we are into the quarters with more Americans than this event has seen in a long time. Will they be able to hold on? The only thing I can tell you for sure is that it will be warm and sunny.
Until Tomorrow,
Marcia Frost
Click on a photo to enlarge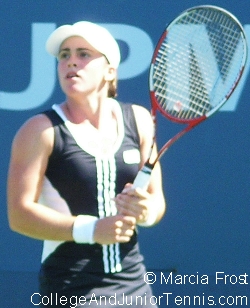 Mary Gambale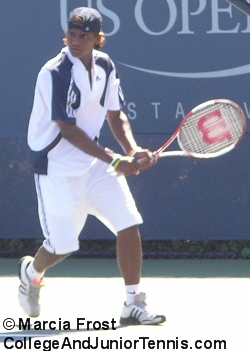 Rupesh Roy
Gail Brodsky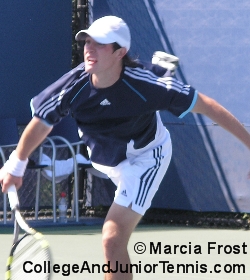 Evgeniy Kirillov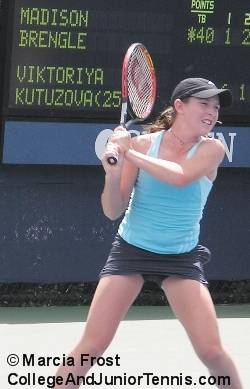 Madison Brengle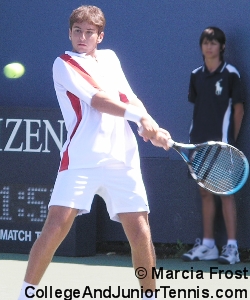 Michael Shabaz
Ashley Weinhold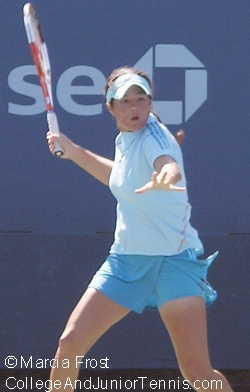 Jamie Hampton