At The Open With Marcia Frost...

Tuesday, September 7th-
Junior Championships, Day Three
Into the second round of the US Open Junior Championships, the Americans are starting to look like they may take the hometown advantage further than originally anticipated.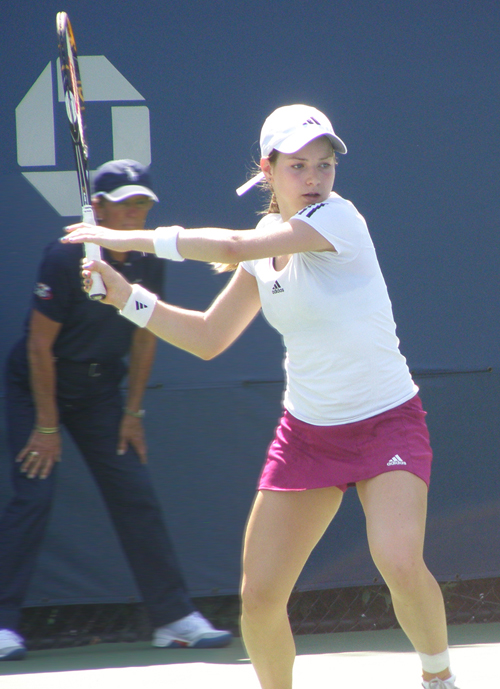 American girls were forced to face challenges, some from each other, in a number of matches in the second round. While Caroline Price didn't make it past top-seeded Daria Gavrilova, she did impress a crowd that included Director of High Performance Patrick McEnroe. Qualifier Robin Anderson continued her run with a 6-3,6-0 win over Kylie McPhillips (right), while Sachia Vickery was just one set better than Brooke Austin.Chanelle Van Nguyen put up a great fight before falling to No. 8 Laura Robson.
There were no upsets to report in the boys' draw, though Duilio Beretta, the seventh seed, was forced to retire with an injury in a third set with American Dennis Novikov That was certainly not the only match that went the distance. After giving up the break he garnered at the beginnig of the match, tenth-seeded Dennis Kudla fought off Germany's Kevin Krawietz for a 4-6,6-4,6-2 win. Alexios Halebian (below) didn't pull the upset over second-seeded Marton Fucsovics of Hungary, losing 6-3 in the third.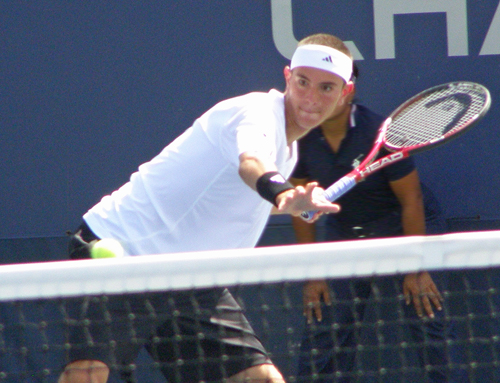 Even though it was a straight sets win, it was definitely a battle between former Argentinian and current U.S. player Andrea Collarini and Brazil's Guilherme Clezar. Andrea won that won, but the points were good and the games long. The University of Michigan's Evan King did have a quick and easy win today (read more about it at Big Ten Tennis.)
There was the good and the bad in American doubles today. The girls doubles draw has Americans playing in six of the remaining 16 teams. On the boys side, only two teams remain -- Mitchell Krueger & Dane Webb and wildcards Andrea Collarini & Jack Sock, who took out the second-seeded team of Renzo Olivo & Agustin Velotti, 6-2,6-0. I saw a great effort by Bjorn Fratangelo & Alexios Halebian before they fell to the sixth-seeded team of Damir Dzumhur & Mate Pavic,6-4,6-7(7),1-0(8).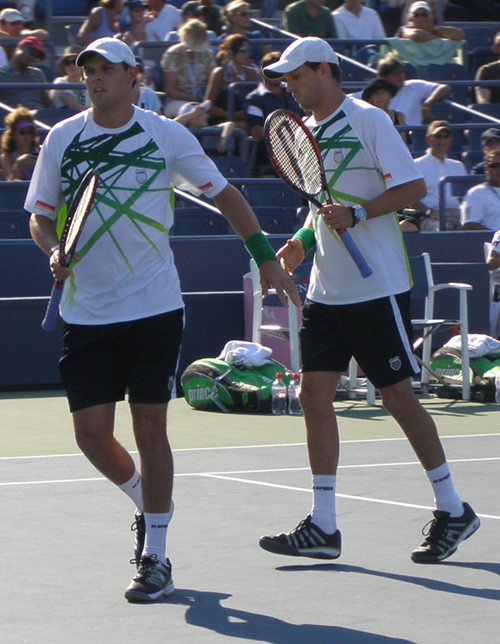 I took a break from the juniors to watch my favorite doubles team, who are now officially the record-holding best doubles team in the world. NCAA champions Bob & Mike Bryan (Stanford) showed off some of what got them to the top in a crowd pleasing win over the team of Marius Fyrstenberg and former UCLA player Marcin Matkowski.
After years of rain wrecking havoc with the schedule for the Junior Championships, it's a bit strange to be on a normal schedule that doesn't require long days and late nights "catching up." It allows me to actually watch more matches as the tournament winds down, rather than just running between them. I'm looking forward to doing this on Wednesday.
Until Tomorrow
Marcia Frost

P.S. A special thanks to my daughter, Sam, for today's great photos. I'm still healing from a corneal burn caused by Clear Care contact solution and not quite ready to take pictures.
For more on the junior matches at the US Open, check out Colette Lewis' Zoo Tennis.

Girls Singles Draw Girls Doubles Draw
Boys Singles Draw Boys Doubles Draw