At The Open With Marcia Frost...
Wednesday, September 8th
Junior Championships, Day Three

Moving the US Open Junior Championships indoors was not the only shock of the day as some of the top seeds fell at Sound Shore Tennis in Portchester, New York.
After the disastrous effects of last year's rain (mainly, cancelling the Junior Doubles), tournament director's wasted no time in moving the juniors indoors when it was clear that the end of the rain was not in sight today. I was one of those who did not hear of the decision in time to make the rain soaked trek across the traffic-filled bridge to the club with sparse viewing. (As you can tell, it wasn't my ideal viewing opportunity.) I promise to do my best to make the trip if necessary tomorrow for some more details, but here is a recap of the day's events:
Clearly the biggest upset of the day was the elimination of American Brendan Evans, the No. 5 seed who has been a top fixture in ITF singles and doubles for the year. Brendan fell in an extremely close one to Coen Van Keulen of the Netherlands, 7-6(3),4-6,6-4. In the rest of the second round boys matches there were no real surprises today as all the seeds advanced, though there were tough ones for Sam Querrey (a 5-7,6-3,7-6(4) win over Marin Cilic), William Ward (a 2-6,6-3,6-1 defeat of Timothy Smyczek) and Jamie Murray (losing 7-5,7-5 to Eduardo Schwank).
In the girls draw there were upsets and surprises today. Yung-Jan Chan, the sixth seed who had eliminated Julia Cohen yesterday, was forced to retire against Ekaterina Kosminskaya of Russia, 4-6,6-4,2-0. Vohislava Lukic of Serbia-Montenegro won in straight sets (though a close 6-4,7-5) to No. 15 Alisa Kleybanova. Though she wasn't seeded, it was unexpected that Alexa Glatch would leave this early in the tournament. The almost fifteen year old (her birthday is Friday) lost to Canada's Aleksandra Wozniak, 7-6(0),6-0. This now leaves fourth-seeded Jessica Kirkland as the sole American girl.
As I write the rain has once again started at the National Tennis Center, interrupting the Agassi/Federer match so what tomorrow brings we will have to wait and see. Whenever, wherever the US Open Junior Championships are played, I'm sure they will bring plenty of excitement.
Boys Singles Draw Boys Doubles Draw
Girls Singles Draw Girls Doubles Draw
Until Tomorrow,
Marcia Frost
Click on a photo to enlarge
Brendan Evans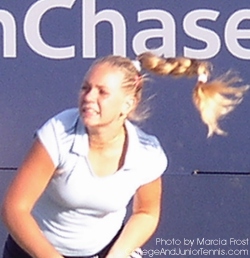 Michaela Johansson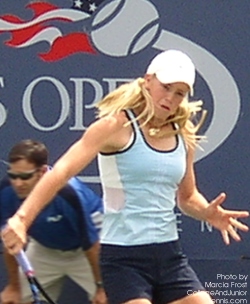 Alexa Glatch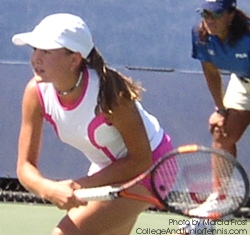 Evgeniya Rodina
Healthy Smoothies
Delivered to your home
Click for 55%
Return to:
College And Junior
Tennis Homepage