At The Open
With Marcia Frost...
Thursday, September 8th
Junior Championships, Day Five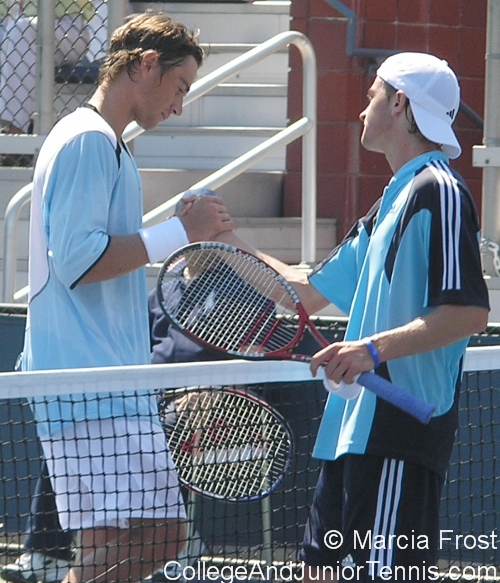 We all know that junior tennis can test your skill, your patience, your will and your strength, but sometimes it can also test your friendship. When a major title is at stake all feelings are left outside the court. It's good to know that when all is said and done the relationship remains. Judging by what I saw (above) Alex Kuznetsov and Timothy Smyczek learned that today.
It will be classified as an upset, but that's really up for debate. Alex Kuznetsov has been ranked as high as No. 4 in the ITF over the last year, but had no real ranking due to his playing the Pro tour and recovering after a serious accident earlier this year. Timothy Smyczek was not seeded, but he is currently No. 20 in the rankings. I knew that it would be a good match no matter what the seeding (or lack of it) said, but it wasn't quite the match I expected.
The match started off with Tim serving out a love game. I knew both boys were hard hitters with great serves so that did not surprise me. What I did expect and didn't get, though, was more of a serve and volley match. Alex has made a remarkable recovery, but it was obvious he couldn't rush the net the way he used to. His winners were more often drop shots than overheads. The first set remained on serve to the tiebreaker at 2-2, but then Tim began to dominate and a frustrated Alex threw his racquet over the net when his friend took it, 7/3.
It was a slightly different match in the second as Tim made a serious of errors and they traded breaks. Alex looked worn and it was not long before Tim took the match with a 6-4 set. In the end it was clear that it may take a bit more rehabilitation before Alex Kuznetsov's activity level is up to what it used to be, but the talent is still all there.
I ran straight from to Court 6 where No. 7 Alexa Glatch and No. 9 Ekaterina Makarova were in a third set. (Alexa had taken the first in a tiebreaker and Ekaterina easily captured the second, 6-1.) At 3-3 it was clear that Alexa was ready to end the back and forth. She broke and held to a 6-3 win. While there were some great points, after watching the power of the boys it had almost looked like slow motion tennis!
Alexa's doubles partner, Vania King, was still in a third set at that point. This one went all the way to a tiebreaker for some crowd-pleasing points. In the end No. 10 Vania, who has had an incredible three weeks of singles here, fell, 6-3,3-6,7-6(2). The two Americans did, however, win their doubles match against Ayumi Morita and Erika Serna, 6-4,6-3.
For the second year in a row, Californian Sam Querrey had a great run at this event, but it ended today when third-seeded Leonardo Mayer of Argentina eliminated him in two tiebreakers. It was definitely a servers duel as these power hitters battled it out. And a "battle" is probably a good description of the match between fellow Americans Matt Bruch and Donald Young. For the third straight round Donald needed three sets to move on. He was luckier in his doubles as he and partner Alex Clayton did it in two.
Another California girl (I thought it was Florida that had all the junior tennis players?!) made some more waves today. Unseeded Elizabeth Plotkin moved on to the quarters with a win over Ekaterina Kosminskaya of Russia, 6-3,6-4. The run of another unseeded surprise of this tournament -- Holden Seguso -- was finished by Ryan Sweeting of the Bahamas. The only upset in the girls draw was Germany's Nina Henkel taking out Wen-Hsin Hsu of Chinese Tapei, 7-5,1-6,7-5.
Though many have fallen, the Americans are certainly alive at the U.S. Open Junior Championships. In the boys singles and doubles there is an American in each half of the draw, as there is in the girls singles. There is also one team from the United States in the girls doubles. And Alexa Glatch and Donald Young both still have the opportunity to be singles and doubles winners. Stay tuned to see if they are still here at the end of tomorrow.
Until Tomorrow,
Marcia Frost