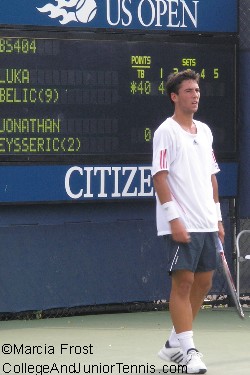 Jonathan Eysseric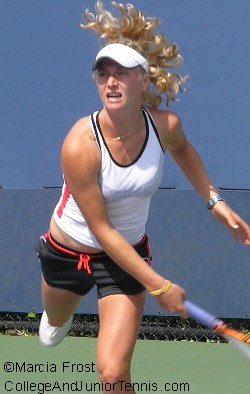 Sacha Jones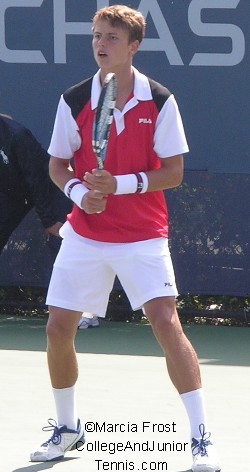 Pavel Chekhov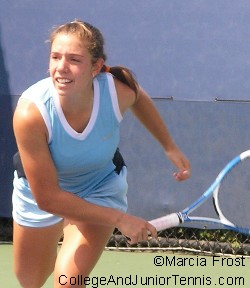 Sharon Fichman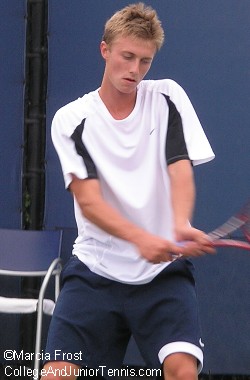 Peter Polansky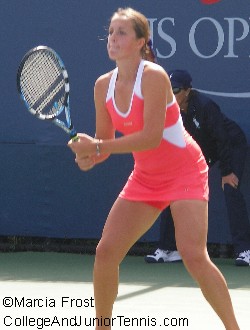 Anastasia Pavlyuchenkova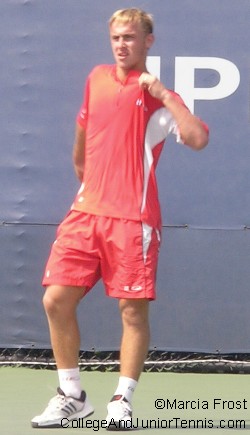 Roman Jebavy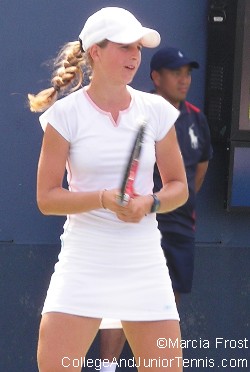 Katarina Vankova
Click on a photo to enlarge
At The Open
With Marcia Frost...
Friday, September 8th
Junior Championships, Day Five
While a few fell today, six Americans still remain alive in their very own Grand Slam event. Lauren Albanese and Donald Young will play singles semifinals tomorrow while doubles teams from the U.S. remain on each side of the boys draw.
It was not easy for Donald Young to make it into the semifinals. Eleventh-seeded Pavel Chekhov kept the match as close as can be throughout. In the first set only the opening game was really long as the points remained short and there were no breaks. The tiebreaker, however, belonged to Donald as the Russian only took one point. In the second the two remained on serve until a jubilant Donald broke through at 4-3 and then took another game for the match.
It was easier for Lauren Albanese to continue on. She played solid in the first set, keeping the necessary break for the 6-4 win. Despite one lost break (and lost temper) in the second, she heeded the chair's warning and got her game back together. It was a fairly quick 6-4 second.
While the Americans moved on without fanfare, not all the other matches were so easy. In the boys singles, Peter Polansky did it again, this time to No. 12 Roman Jebavy. He squeaked through the first 7-6(9), but the second was all his at 6-1 to earn his place against Donald on Saturday. The other semi will be between No. 10 Dusan Lojda, who ended Qualifier Artem Smirnov's terrific run, 6-2,6-2. and ninth-seeded Luka Belic, who took out the second seed, Jonathan Eysseric, 6-4,6-4.
Lauren Albanese will be up against Tamira Paszek tomorrow. The eleventh seed beat Sacha Jones today twice -- 6-1,6-2 in singles and in a terrific doubles match where she teamed with partner Melanie Klaffner to just get by Sacha and New York's own Lena Litvak. The other semi will be between two players who both had to work for it today. Top-seeded Anastasia Pavlyuchenkova needed three sets to defeated No. 10 Raluca Olaru. Unseeded Katerina Vankova garnered the upset of the day over Sharon Fichman, 4-6,6-1,6-3. Katarina also won in doubles (with Katerina Kramperova) over sixth-seeded Sorana Cirstea & Alexandra Panova. Sharon & Anastasia then teamed in doubles over Chelsey Gullickson & Jamie Hampton, 6-3,1-6,6-1.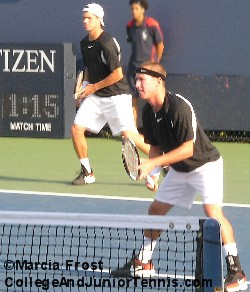 Unlike the girls, the boys doubles draw is now full of players who are not in the singles. Ruben Bemelmans & Jaak Poldma will face Jarmere Jenkins & Austin Krajicek, who really pulled out a close one -- 6-7(6),6-4,7-6(5) -- over Roberto Maytin & Rupesh Roy. On the bottom half it will be two unseeded team. Daniel Lopez & Matteo Trevisan against Jamie Hunt & Nate Schnugg (pictured left).
The odds are pretty good that the U.S. Open Junior Championships will once again see Americans in the finals, but we'll have to wait until Saturday to know for sure.
Until Tomorrow,
Marcia Frost
See the best offers for flights, hotels & car rentals
at Skyscanner
---