At The Open With Marcia Frost...

Wednesday, September 8th-
Junior Championships, Day Four
With the exception of some strong wind, it was another beautiful day of sunshine and warm temperatures at the US Open, where the Junior Championships are well underway and the American boys are putting on a great show.

In the boys' draw, it's the American wildcards who have taken over and that trend continued in the completion of round two. Daniel Kosakowski was in a tough match with Joris De Loore of Belgium, but held his cool much better and managed to pull off a break for 5-3 in the first and then breeze through the second. It was a bit different for Jack Sock, playing Germany's Peter Heller, but he got the job done. The first set went by in a blink fo a 6-1 win. In the second he started with a 4-0 win and then things got tighter before he actually won it at 6-3.

There were no upsets in the rest of the boys draw as the seeds -- Jiri Vesely (4), Damir Dzumhur (5), Augustin Velotti (8), and Victor Baluda (13) -- all entered the third round. There were upsets in boys' doubles, with Guillherme Clezar & Tiago Fernandes taking out top-seeded Marton Fuscoics & Mate Zsiga. Also falling was No. 8 Liang-Chi Huang & Ouyang Bowen. Andrea Collanni & Jack Sock, who eliminated the second seeds in round one, squeezed on to the quarterfinals as the only team from the U.S. remaining in that draw.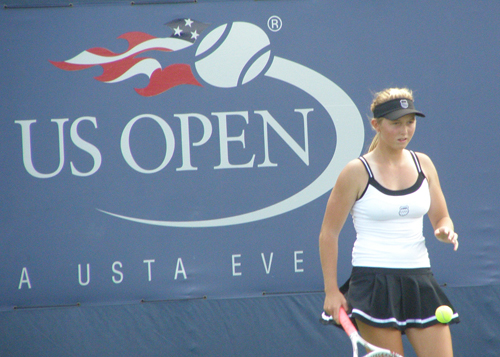 It wasn't a great day for the girls' from the United States, but there are three remaining (four with Monica Puig, playing under Puerto Rico). Ellen Tsay fell and Krista Hardebeck (above) lost a close one to No. 9 Gabriela Dabrowski, 7-5,2-6,7-5. Sloane Stephens (15) made it past China's Tian Ran. There wee two upsets in that draw. No, 10 Jana Cepelova lost a three-setter to Paraguay's Veronica Royg and second-seeded Timea Babos, sister of NCAA singles champion Susie Babos, was upset by Russia'sYulia Putintseva, 7-5,6-3.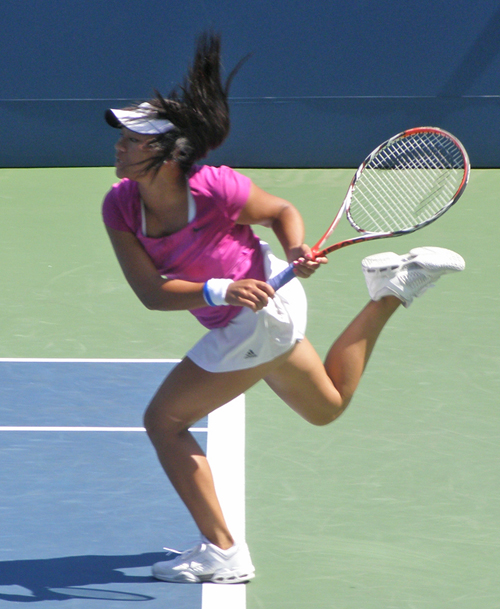 The American girls are still well-represented in doubles despite the loss of three teams on Wednesday. Of note are Nicole Gibbs & Kyle McPhillips' upset over No. 8 Eugenie Bouchard & Gabriela Dabrowski and Robin Anderson & Monica Turewicz' win over No. 6 Veronica Cepede Royg & Cristina Dinu. The teams of Ester Goldfeld & Chanelle Van Nguyen, (right) well as Madison Keys & Ellen Tsay, lost in the second round.
Thursday will be an exciting day for some juniors (including Americans Dennis Kudla, Evan King and Jack Sock), who get to play on Louis Armstrong Stadium and be televised on The Tennis Channel. If you can't make it to the Open, be sure to tune in!
Until Tomorrow
Marcia Frost

P.S. A special thanks to my daughter, Sam, for today's great photos. I'm still healing from a corneal burn caused by Clear Care contact solution and not quite ready to take pictures.
For more on the junior matches at the US Open, check out Colette Lewis' Zoo Tennis.

Girls Singles Draw Girls Doubles Draw
Boys Singles Draw Boys Doubles Draw