At The Open
With Marcia Frost...
Friday, September 9th
Junior Championships, Day Six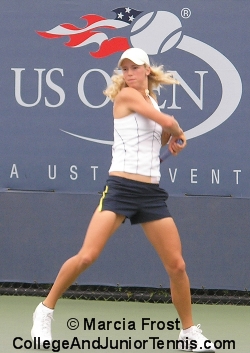 Most teenage girls spend their 16th birthday partying with friends, but Alexa Glatch (right) has the opportunity to do something no one else ever has -- celebrate Sweet Sixteen by playing the doubles final and the singles semifinal at the U.S. Open Junior Championships.
The only thing that was the same between the two girls on Court 10 today were their outfits. Though both sported the Nike yellow, Alexa Glatch, the seventh seed, and No. 3 Dominika Cibulkova did not play an equal game. Alexa totally shut out the 16 year old Slovakian in the first set. In the second, Dominika stepped up her game, but so did Alexa. There was only one break, but that's all the Californian needed for a 6-4 win.
In the afternoon Alexa partnered with Vania King for a quick and easy 6-3,6-2 victory over Wen-Hsin Hsu and Amina Rakhim. The second-seeded team, who recently won the doubles at the Girls 18 Nationals, will face Nikola Frankova and Alisa Kleybanova in tomorrow's final. Nikola and Alisa had beat the team of Olga Govortsova/Bibiane Schoofs. It was a bad day all around for Olga as she had also lost in singles to Mihaela Buzarenscu, 6-2,7-6(3)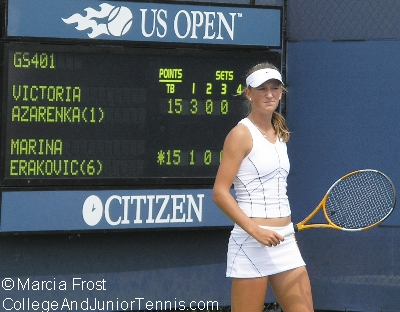 Top-seeded Victoria Azarenka (above) hasn't worked too hard this event, losing only six games before today's quarterfinal. Today was an easy one too when, at 5-2, Marina Erakovic retired with a back injury. Victoria may have to work a bit tomorrow when she faces Mihaela Buzarenescu, the fourteenth seed.
In the last girls quarterfinal, the two unseeded players, Nina Henkel of Germany and American Elizabeth Plotkin battled it out in a close 7-5,7-5 decision. Though it was Nina's win, the match was close enough that it could have gone either way. And "close" is how I would describe all of the boys matches today...
As has become the norm around the National Tennis Center, a crowd gathered to watch Donald Young's match. Today the group even included avid tennis fan and supporter David Dinkins (left). Unfortunately, the cheering and support was not enough for the number one junior in the world as Sun-Yong Kim was determined to avenge his Australian Open finals loss. Sixteen year old Donald lost the first set in a tiebreaker, but that was not enough to worry anyone since all of his matches at this tournament have been three setters. The next set was all Donald's at 6-2, but the third and final was up for grabs. It went into another tiebreaker and again the Atlanta teen couldn't get his game back for a 7/2 loss.
The day wasn't all bad for Donald Young, who later teamed with fellow American Alex Clayton to earn their place in the doubles final. They eliminated Petar Jelenic and Evgeniy Kirillov, 6-2,6-3. The other Americans in the doubles semis -- Jesse Levine and Michael Shabaz -- were not so fortunate as they were defeated by Carsten Ball and Thiemo de Bakker, 6-1,6-3.
Another American, Tim Smyczek, ended an incredible run today when he lost to fourth-seeded Santiago Giraldo, 6-1,3-6,6-2. The match was much closer than the score shows, as many games went to deuce and the hard-hitters went back and forth with some real winners. Unseeded Ryan Sweeting, who has decided to join the University of Florida team in January, surprised No. 3 Leonardo Mayer in straight sets (6-4,7-5).
The match for the final boys quarterfinal, was about as close as one could get. Wimbledon winner Jeremy Chardy lost the first set with just one break, 6-4, but came back in the second when Martin Cilic was shaken by his resolve and began to have serve problems for a 6-4 win of his own. It was a very even match for the first few games of the third, but the power of Jeremy (he hits so hard it sounds like he's going to break the racquet with each stroke) was the edge for a 6-2 win.
After the singles semifinalists go at it tomorrow, the doubles championships will take place. Despite all the talk about doubles lacking in this country there will be American boys in the doubles final for the seventh straight time. And we're still holding out for Alexa Glatch to welcome Sweet Sixteen with two wins this weekend.
Until Tomorrow,
Marcia Frost