At The Open With Marcia Frost...

Thursday, September 9th-
Junior Championships, Day Five
It hasn't happened since 2004 when Michaella Krajicek of the Netherlands did it, but American Sloane Stephens has a shot at making a sweep of the titles at this year's US Open Junior Championships.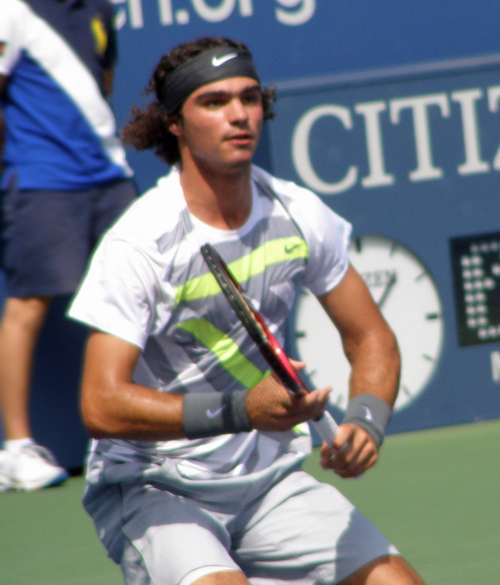 The odds in doubles are definitely in Sloane's favor as she and partner Timea Babos have taken the trophy at the last two junior Slams. They moved one step closer on Thursday with a quick 6-2,6-2 win over fellow Americans Nicole Gibbs & Kyle McPhillips. In singles Sloane Stephens hasn't struggled much either this tournament. The 15th seed's latest accomplishment consisted of taking out the fourth-seeded Karolina Pliskova, 6-3,6-0.
There's another player who's no longer eligible for the sweep, but he's looking pretty good out there on the singles court. Jack Sock & Andrea Collarini fell in a doubles match tiebreaker (which, I want to go on the record as saying, has no place replacing a third set in a Grand Slam event). Collarini (right) also dropped his singles match to Filip Horansky, but Kalamazoo winner Jack Sock recorded another straight set victory. This time the wildcard took out the fifth-seeded Damir Dzumhur, 7-6(3),6-3.
The upsets by Sloane Stephens and Jack Sock were not the only ones on Thursday. On the girls' side, American Qualifier Robin Anderon beat Junior Wimbledon champion Laura Robson, 6-3,6-2, and will face top seeded Daria Gavrilova in the quarterfinals. Ironically, Daria, who is also in line for a tournament sweep, and partner Irina Khomacheva will be the opponents of Sloane & Timea in doubles semifinals so one of them will lose their chance of a doubles Friday.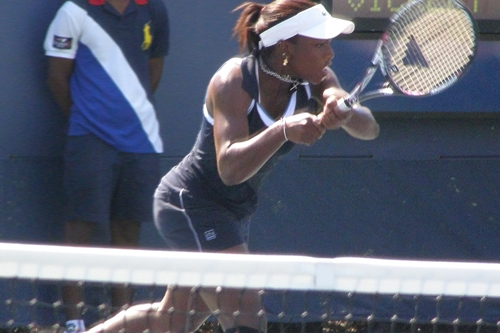 Two other players from the United States, Monica Puig and Dennis Novikov, also won their matches on day five, while Sachia Vickery (above) and Daniel Kosakowski lost their singles. And, Denis Kudla defeated Evan King in a spectacular match on Louie Armstrong Stadium. Details are available on Big Ten Tennis.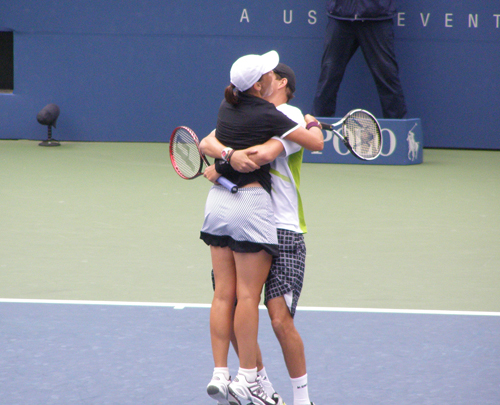 Things got a bit better for Junior coach Mark Bey of the CARE Academy. After watching player Evan King lose, he got to see a big win from Bob Bryan, a player he acts as an assistant coach for. I took a break from the juniors to watch Bob & Leizel Huber win the Mixed Doubles Championship. It's Bob's fourth US Open title in this event, with four different women. On Friday, he gets a shot at another trophy with his one and only partner in men's doubles -- brother Mike.
Until Tomorrow
Marcia Frost

P.S. A special thanks to my daughter, Sam, for the great photos of Sloane Stephens and Andrea Collarini. I'm still healing from a corneal burn caused by Clear Care contact solution and not quite ready to take pictures.
For more on the junior matches at the US Open, check out Colette Lewis' Zoo Tennis.

Girls Singles Draw Girls Doubles Draw
Boys Singles Draw Boys Doubles Draw