At The Open With Marcia Frost...
Saturday, August 27th
Arthur Ashe Kids Day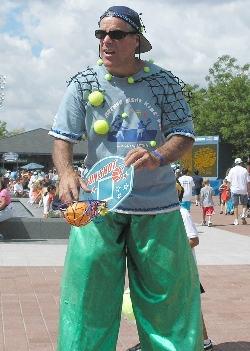 The 10th Annual Arthur Ashe Kids Day was even more successful than previous years as the best in tennis gave their time for this worthy day.
Sponsors like Hess, Nike and Nickelodeon set up fun and games throughout the grounds for children of all ages. The festivities were free of charge with the exception of the stadium show. Inside tennis celebrities including Anna Kournikova, Andy Roddick, Andre Agassi and Serena Williams put on exhibitions for charity. Even Martina Navratilova made an appearance, playing mixed doubles with Roger Federer.
Olympic gold medalist Summer Sanders hosted the day along with MTV VJ Quddus. Each year the number of musical acts gets more diverse and this year television and recording star Jesse McCartney performed, followed by Click Five and Rihanna.
The day was a perfect tribute to a tennis legend, especially since it marked the official release of the Arthur Ashe Jr. postage stamp.
Until Monday,
Marcia Frost

Anna Kournikova, Roger Federer & Kim Clijsters were among those who played for charity

Murphy Jones interviews Robby Ginepri

Teen actor and singing sensation Jesse McCartney

Todd Martin coaches Mardy Fish

Top Junior Manuela Velasquez, who trains at the National Tennis Center

Tennis great Martina Navritalova particpated in the mixed doubles exhibition for charity

MTV VJ Quddus was the emcee again this year

Andy Roddick & Serena Williams

Singer Rihanna

Bill Mountford, Director of Tennis at the National Tennis Center, sat in the umpires chair while some of his top players put on an exhibition

National Tennis Center Teaching Pro Carlos Maldonado helped out in Arthur Ashe Stadium

Players were excited to hit with Gael Monfils, last year's No. 1 junior in the world

Donald Young played doubles with a player even younger than himself