<![if !vml]>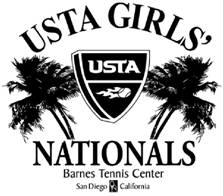 <![endif]>Girls' Nationals Set In San Diego
By Marcia Frost
The August National Championships have always been the most prestigious event held for juniors by the United States Tennis Association (USTA). The girls 16 and 18 events have long produced winners who went on to excel in the professional ranks. In the early years there were names like Maureen Connolly and Helen Jacobs picking up trophies. The 1970s saw Chris Evert and Tracy Austin in the winners' circle, while Lindsay Davenport and Jennifer Capriati would win titles a few years later.

The prestige of this tournament has not changed in the new millennium, . The 2009 Girls' 18 champion Christina McHale is currently holding place as the youngest women in the WTA Top 100. Melanie Oudin, who has placed in singles and doubles in recent years, sported a career high ranking of 31 in the world last year. What has changed, though, is the venue and the format, bringing the Girls' 16 and 18 Nationals even further into the spotlight. It is being run by tournament directors Liz Blum and Ellen Ehlers, in conjunction with Youth Tennis San Diego.

For years, the USTA Girls' 16 Nationals were held in Southern California and the 18s in Northern California. A move was made in 2010 to join the two events together, as the boys have done in Kalamazoo for nearly 70 years. The George E. Barnes Family Jr. Tennis Center in San Diego was chosen as the site. It's the perfect location for an event of this caliber with 21 outdoor courts, including a large stadium court. Though the vast majority of the tournament will be played there, the large amount of matches the first few days will also require usage of some courts at nearby San Diego State University and the University of San Diego. All the girls will have the opportunity to stay at the Mission Valley Hilton, the host hotel.

Nearly 400 girls will descend on San Diego for this 10 day event. Last year's champions, Kyle McPhillips (16s) and Shelby Rogers (18s) are expected to return as there is even more to go home with than  trophies. The Nationals offers the opportunity for girls to gain entry into the U.S. Open Championships. The Girls' 18s singles winner receives a wildcard into the Women's Singles Draw. For the 16s singles and doubles winners, automatic entry is given into the U.S. Open Junior Championships. In addition, the championship also awards the Maureen Connolly Brinker Trophy, named after "Little Mo," a former San Diego resident who was the first woman to win the Grand Slam, to the tournament's most outstanding player.
The 2011 USTA Girls' Nationals will take place at the Barnes Tennis Center in San Diego, California, August 5-14.  Follow the tournament @USTAGirls on Twitter, USTA Girls 16 & 18 Nationals on Facebook and on the official website, http://www.ustagirlsnationals.com.