<![if !vml]>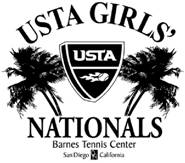 <![endif]>
Girls' 16 & 18 Nationals
August 5-14, 2011
George E. Barnes Family Jr. Tennis Center
4490 W. Point Loma Blvd, San Diego, CA 92107
FOR IMMEDIATE RELEASE
Contact Marcia Frost for photos & more information
Marcia@MarciaFrost.com; onsite August 5-14
July 29, 2011-With the conclusion of the USTA National Clay Court Championships this past week, we're getting a glimpse into things to come at the USTA Girls' 16 & 18 Nationals, starting in just one week at the George E. Barnes Family Junior Tennis Center in San Diego.

Without the inclusion of professional players after the U.S. Open wildcards that go to tournament winners at the August Nationals, the Clay Courts are quite as prestigious, but they certainly weren't lacking in tough competition. At the Girls' 18s event in Memphis, Tennessee, 14 year old Gabby Andrews walked away with the title. Andrews, a Southern Californian, will have a chance to pick up the next championship on her home turf as she is entered in the Girls' 18 Nationals.

Ironically, the Girls' 16s winner at the USTA National Clay Courts is older than the 18s winner, but she swept her tournament. Texan Peggy Porter picked up the first place trophies for both singles and doubles (with Georgia's Laura Patterson). Porter will be coming out to San Diego to see if she can repeat the feat.
The 2011 USTA Girls' 16 & 18 Nationals will take place at the Barnes Tennis Center in San Diego, California, August 5-14. The August National Championships are the most prestigious event the USTA holds for junior tennis players. Previous winners of these events include Maureen Connolly, Helen Jacobs, Chris Evert, Tracy Austin, Lindsay Davenport, Jennifer Capriati and, more recently, Christina McHale, the youngest American woman ranked in the Top 100 professionally. Another top American currently on the pro tour, Melanie Oudin, has placed in singles and doubles at both the Girls' 16 and Girls' 18 Nationals.
The USTA Girls' 16 and Girls' 18 Nationals were separated until 2010, when the USTA decided to move them together in San Diego, in similar fashion to the way the boys events are joined in Kalamazoo. Liz Blum and Ellen Ehlers are working as tournament directors to orchestrate the tournament at the George Barnes Tennis Center in San Diego, which has 21 outdoor courts, including a large stadium court. During the busy first few days of the tournament some matches will also be played at San Diego State University and the University of San Diego. The nearby Mission Valley Hilton will be the host hotel for the Nationals.

For updates before and during the tournament, follow @USTAGirls on Twitter; USTA Girls 16 & 18 Nationals on Facebook; and visit the official website, http://www.ustagirlsnationals.com.