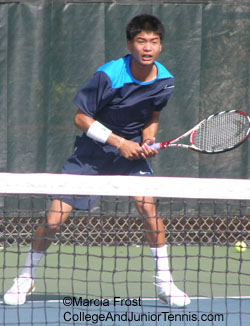 Raymond Sarmiento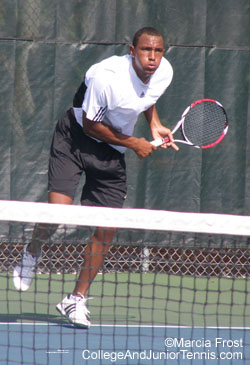 Marcus Fugate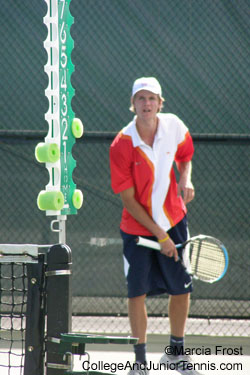 Taylor Albrecht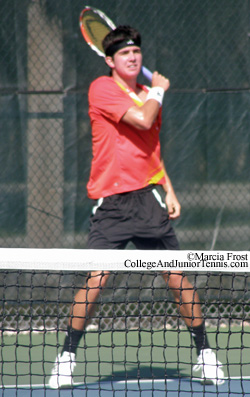 Chase Buchanan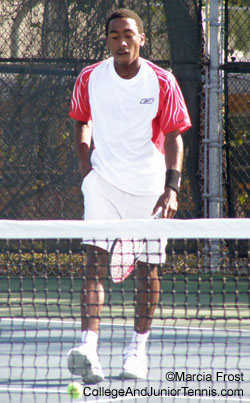 Evan King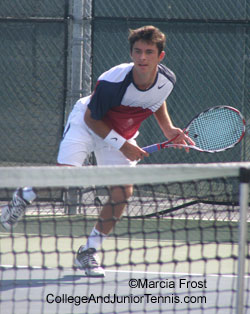 Mousheg Hovhannisyan
click on a photo to enlarge
Friday, January 18th-Qualifying, Day One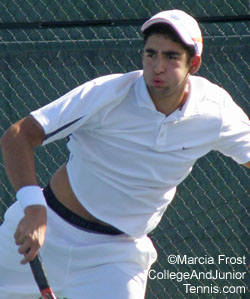 It may be a professional event, but there are plenty of junior players at the USTA Pro Circuit Futures event in Boca Raton, Florida.
I arrived at the Patch Reef Tennis Center after spending a few hours at the new USTA Headquarters (more on that next week). It's the first day of Qualifying here and the draw if filled with junior players looking to test the waters on the Pro Circuit while they still have their amateur status. Of course, a talented 16 year old can be a seasoned pro's worst nightmare, and today a number of them proved that the vets better watch out.
Eighteen year old Brennan Boyajian was just finishing his 6-0,6-2 dismissal of Leon Ojalvo when I arrived, but I did get to see 16 year old Chase Buchanan, who has had enough success in Futures to be the 16th seed here. He had a match that was as close as his winning score against Swede Robert Jendelund, 7-6(4),6-4. It was my first look at 16 year old Mousheg Hovhannisyan and I was impressed at the Californian as he outplayed 22 year old pro Robert Gallman, 6-4,7-5.
Fellow-New Yorker Matthew Kandath (above) came out swinging against 14 year old Canadian Alexandru Pasareanu, breaking in the very first game. He dominated the first set for a 6-2 win, but lost it a bit in the second (3-6). I didn't see any of the third, but Matthew did take it 6-3. Teens Taylor Albrecht & Zach Hunter were playing some fairly short points and it seemed to me there were more errors than winners as Taylor took it 7-5,6-1. It was the opposite situation between Evan King and Jovan Krajinovic. I was matching most of the first set and was shocked to learn (they hadn't changed the scoreboard before) that the latter was up 5-0. The match looked much more even than that through long points and games, bt Jovan was better where it counted for a 6-0,6-4 win.
Youth did not always prevail today. Marcus Fugate, who will turn 20 next week, had no problem getting past 15 year old Raymond Sarmiento, though these two volleyers made for some fun points to watch. Devin Britton spent the day watching as his opponent, Rupesh Roy, was still alive in the North Miami event so their match was postponed.
I'm going to be spending the next few days in Miami at the Tennis Plaza Cup and then will be back at the Patch Reef Tennis Center Tuesday to see which juniors made it through Qualifying and who got into the main draw of this Circuit event.
Until Tuesday,
Marcia Frost
Monthly Guides to
College Tennis Planning
Available in Kindle & Print
---

Monthly Guides to
College Tennis Planning
Available in Kindle, Print & EBook
for H.S. Seniors
and H.S. Juniors
---
---
Return to:
College And Junior
Tennis Homepage