2004 USTA ZONE TEAM CHAMPIONSHIPS
Old Westbury Golf and Country Club & Shelter Rock Tennis Club
July 11-15, 2003
JULY 12, 2004 - DAY TWO
Click Here To Purchase or download print quality photos for personal use.
Photos may not be used for professional purposes without permission.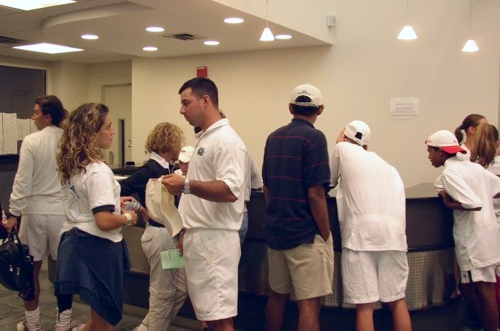 Day Two of the 2004 USTA Zone Team Championships certainly didn't go as smoothly as the first. The rain destroyed any chance of outdoor play this afternoon at the Shelter Rock Tennis Club in Manhasset. Fortunately, the Port Washington Tennis Academy was just a few miles away and matches moved indoors.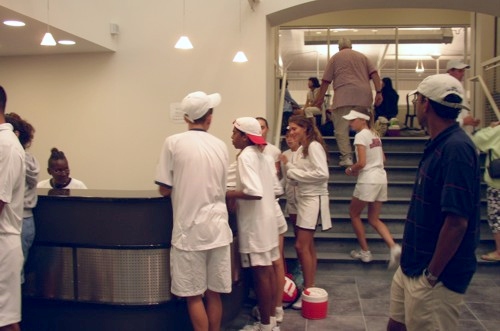 The 120 junior tennis players from five regional sections - Eastern, Mid-Atlantic, Middle States, New England and Northern - had a rough few hours, but the tournament directors pulled it all together and finished up the days as scheduled. I spent most of the day behind the tournament desk getting the matches out today. Weather permitting, I'll be back out among the courts tomorrow to get some action shots of the players.
RESULTS FROM MONDAY, JULY 12th
TEAM
MATCHES
WON


TEAM
MATCHES
WON
Mid-Atlantic Cougars
13
vs.
New England Tigers
1
Middle States Panthers
11
vs.
Northern Lions
3
Eastern Wolves
6
vs.
New England Rams
6
Eastern Bears
13
vs.
Northern Bulls
1
Eastern Leopards
9
vs.
Middle States Hawks
5
Eastern Falcons
8
vs.
Mid-Atlantic Eagles
6
---