2004 USTA ZONE TEAM CHAMPIONSHIPS
Old Westbury Golf and Country Club & Shelter Rock Tennis Club
July 11-15, 2003
JULY 13, 2004 - DAY THREE
Click Here To Purchase or download print quality photos for personal use.
Photos may not be used for professional purposes without permission.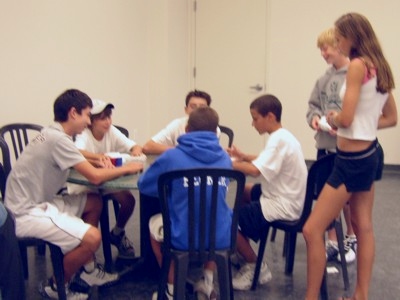 Let The Games Begin! The card games, that is. Just because there was plenty of card-playing today doesn't mean there wasn't tennis. It took a lot of juggling, but all of the singles matches went on today thanks to the indoor courts at the Port Washington Tennis Academy and the Shelter Rock Tennis Club.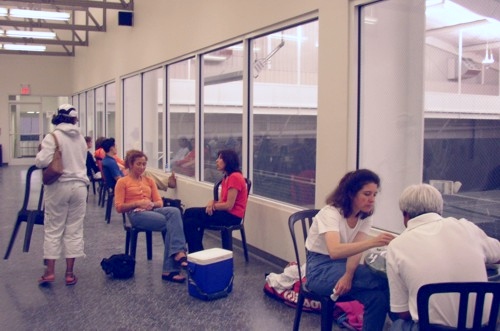 There may have been a lot of waiting around, but there was plenty of viewing of the matches at PWTA. The annual banquet had to be cancelled because of the non-stop rain, tournament directors brought in bagels and fruit and the Academy's trademark cookies, juice and bannanas were available to players and parents waiting for matches.
RESULTS FROM TUESDAY, JULY 13th
TEAM
MATCHES
WON


TEAM
MATCHES
WON
Mid-Atlantic Cougars
9
vs.
Middle State Hawks
1
Middle States Panthers
7
vs.
Mid-Atlantic Eagles
3
Eastern Wolves
9
vs.
Northern Lions
1
Eastern Bears
6
vs.
New England Tigers
4
Eastern Falcons
10
vs.
Northern Bulls
0
New England Rams
6
vs.
Eastern Leopards
6
---