2005 ITA ALL-ACADEMIC TEAMS
& SCHOLAR ATHLETES
NJCAA
The ITA All-Academic Team award is given to a team that has a cumulative grade point average of 3.20 or above on a 4.0 scale. All eligible student-athletes whose names appear on the NJCAA eligibility form and have competed in one or more matches are included into the cumulative grade point average.

ITA Scholar-Athlete status is given to players who meet the following criteria: a junior or senior in school; a varsity letterwinner; and have a grade point average of at least 3.50 on a 4.0 scale.
WOMEN
ALL-ACADEMIC TEAMS
Copiah-Lincoln Community College Cowley County Community College


SCHOLAR-ATHLETES
Stacia Whittecar Cowley County Community College Jessica Kreplin, College of DuPage
Jenny Lindh, College of DuPage
Jenna McMahon, College of DuPage
Diane Galminas, College of DuPage
Mandy McKinney, College of DuPage
Kylie Griswold, College of DuPage
Emmalee Piedlow, College of DuPage
Kelly Beiermann, Lewis & Clark Community College
Brittany Kockler, Lewis & Clark Community College
Madison Lumm, Independence Community College

MEN
ALL-ACADEMIC TEAMS
Cowley County Community College
Lewis & Clark Community College


SCHOLAR-ATHLETES
Chris Collins, Copiah-Lincoln
Zachary Erwin, Copiah-Lincoln
Cory Lambert, Copiah-Lincoln
Dino Lovrin, Copiah-Lincoln
Ilyar Khammadou, Cowley County
Julian Rios, Cowley County
Goran Samodajev, Copiah-Lincoln
Nick Daugherty, Independence Community

Back To Directory Of 2005 All-Academic Teams
Monthly Guides to
College Tennis Planning
Available in Kindle & Print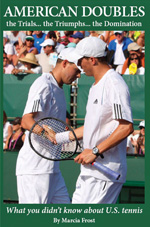 ---
---

---
Return to:
College And Junior
Tennis Homepage