TALKING WITH... KRISTIE AHN
April, 2008 continued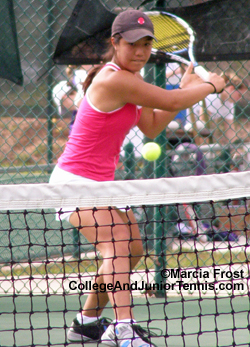 Q: Are you thinking about college?
A: ": Yeah, I guess. I mean it's kind of like 'whatever happens, happens.' I mean.. college, yeah, I'm definitely considering it. If I can go further than that, that would be good."
Q: "At what age did you start playing tennis?"
A: "I was like eight."
Q: "That's pretty late."
A: "Well, I started playing soccer first. Then gradually switched over to tennis."
Q: "Where do you train?"
A: "Well I don't really train, but I practice with my coach at Mountain LakesRacquet Club. We don't really have a place, but like we just uh…"
Q: "And who's your coach?"
A: "Lee Hurst. He's a British dude!"
* * *
---