NCAA DIVISION I MEN'SCHAMPIONSHIPS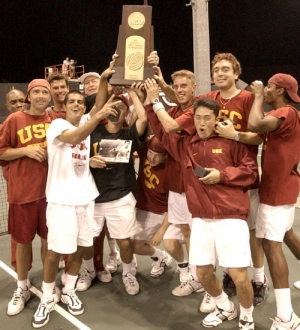 A retiring coach has a comeback, the first repeat winner in nearly twenty years and unseeded doubles champions highlighted the NCAA Division I Men's Championships.
The Southern California Men's Team (right) gave retiring Coach Dick Leach the best going away present possible -- an NCAA trophy. For the first time since 1994, the Trojans captured the championship with a 4-1 upset over Georgia. Freshman Prakash Amritraj (left with Coach Leach) was the tournament MVP. In another note to the power of Coach Leach's skills, the University of Washington team -- led by former USC player Matt Anger -- upset Stanford in the round of 16.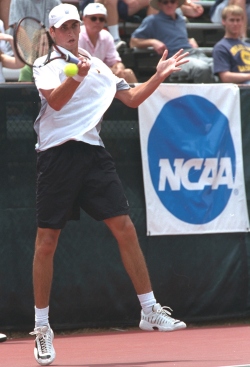 Matias Boeker (right) became the first player to win back to back men's singles titles since Mikael Pernfors (also a Bulldog) did it in '84 & '85. Matias, who took some time off in the Fall to play the pro circuit, ended the season with a 23 match winning streak. In the tournament finals he overpowered Kentucky freshman Jesse Witten, recently named Rookie of the Year by both the ITA and the SEC.
The unseeded team of Andrew Colombo (left) and Mark Kovacs of Auburn picked up an NCAA Doubles crown after defeating the No. 2 seeded Scott Lipsky and David Martin of Stanford, 6-2,3-6,6-2 in the finals. It was the first NCAA doubles trophy for Auburn.
---